There are many areas in the house that can be difficult to keep them clean. Like kitchen, bathroom walls, kids rooms and other high traffic areas. Instead of covering these places with any regular paint, we need paints especially formulated for these types of places like any best washable paint or mould resistant paint.
There are high chances to get grubby stains on these surfaces. Once the stains spotted, it sounds dirty and can't be clean in case of surface painted with any regular paint. Then you will have to bear the dirty stains or repaint the wall, which is again lengthy process.
Washable paints are perfect solution for this problem. These paints are especially manufactured for such surfaces with stain resistant technology and help to keep surface clean and good looking for long time. So, dirty stains can easily get off with wet cloth and soap.
Like wall paints, there is also many products claimed washable paint. Selecting a quality washable paint from a large number of products is also a little challenging process. After well research and experiments, we listed top washable paints available in market. Read reviews and select quality wipeable paint.
1-Dulux easy care washable and tough matt emulsion
Key features
Finish=matt
Surface recommendation = indoor busy areas
Coverage =13 meter square
Dry time = 4 hours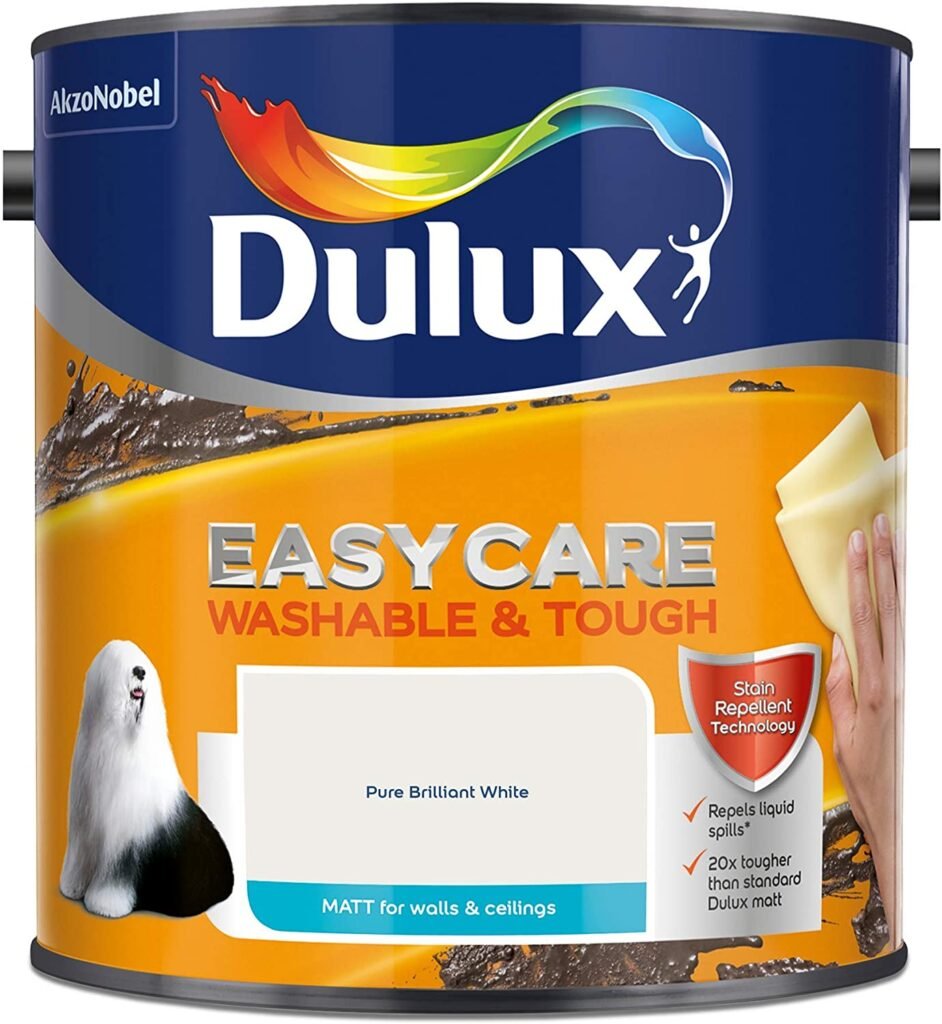 Product Description
Dulux easy care washable paint is especially designed for indoor busy areas to keep them clean for long period. Its stain repellent technology leaves 20X tougher and hardwearing surface film on the surface then any standard dulux paint. Paint is also available in different color shades in matt finish.
Paints gives two coat finish with covering power of 13 meter squared. In case of more coats required, dry the first one for four hours. Dulux easy care washable is perfect for kid's room, bathroom and kitchen walls.
Paint is little thicky then usual paints but give you really nice finish. You can add tiny water in first coat, so it can fill all the holes and dents from walls and works like primer. It is also better to apply 3 to 4 thin coats instead of thick coat, when you have time to wait between coats.
Better to apply with brush or roller, its thickness will not let the paint to drips or runny. One applied, paint will not allow the stains to stick to surface and can easily wipe with wet cloths without damaging and discoloring the wall.
Paint has no more smelly fumes. You may find it little pricey then others, but you should ignore it for the sake of good result and quality finish. Its waterbased formulation helps everything to clean easily after use.
Pros
Stain repellent technology prevents surface from stains to stick in
Easy application and nice coverage of 13 meters
Provide fantastic matt finish with low fumes
Color choices available to select desired one
For surfaces in good condition, its one coat will be enough
Cons
Sometime paint color comes in slight difference
2-jhonstons washable matt paint
Key features
Finish = Matt
Surface recommendation = inside walls/perfect for busy areas
Coverage = 12M/L
Dry time = 1 – 2 hours
Product description
Johnston's washable matt is another excellent washable paint provide matt finish. Suitable for busy areas of house, ends up with tough and durable film on surface. Paint protects surface from stains to get sticked and easily wiped with wet cloth.
Paints coverage is far batter then many other products. If you are just refreshing already painted surface with same color, then its one coat can do your job. But make sure there are no brush strokes after dry, otherwise you need more coats.
The paint is waterbased, took less time to dry and has not overpowering smell like many other paints. Johnston's washable matt is smooth to use and applied quickly because paint has great consistency. It also works to hide the slight imperfections with lovely matt finish.
Along with many admirable qualities, you got an extra edge that it comes in reasonable price as compared to many other paints. Overall, it's a good product to use in high condensation areas like bathroom, kitchen, and stains can easily wipe without coming off the paint.
This fantastic paint comes with 31 stunning shades. But, you should be careful while ordering, because paint can come with slight difference in color from the color shows on Amazon or on tin.
Pros
Quickly dry and smooth to use paint
Has Low VOC content
Highly durable and hardwearing formula makes the film cleaned easily without any damage
Waterbased paint has bearable fumes
31 glorious colors available to choose from
Cons
Comes with little difference in shade then it on Amazon or on tin.