Many of the people and homeowners wanted to get their painting job done quickly. So, they give preference to use any best one coat paint to cover the surface.
One coat paints are specially formulated to give perfect high quality finish in just a single coat of paint. Now a days, one coat paint comes for many kind of surfaces like wood, metal, walls and ceilings etc. you can chose the paint according to the nature of surface you want to be painted.
Many of paint manufacturers claims that their paint give one coat finish. But in actual it not gives. Sometimes, the person who applied the paint is unskilled, so he doesn't apply the paint correctly and a fails to finish perfectly in a coat, so he complains about the paint that the paint is not a one coat paint.
These types of paint are not as easy to use as like all other commonly used paints. It is also not suitable for all type of conditions of any surfaces. Lets discuss "when to use" and "when not to use" these types of paint. Keep it in mind before using this type of paint.
If you are just touching up the surface with similar color that already painted and want to refresh it again.
If you are a professional painter and can get professional finish without leaving brush strokes in one coat.
70% of result depends on the preparation of surface. If surface is well prepared and in good condition and don't have any dark stains, then you can use these type of paint.
If surface is already stained with dark color and now you want to apply light color, then don't use this paint. It will not cover the surface in one coat.
If you don't want to hire painter and want to do it by yourself and you are not a expert painter, then don't use these type of paint. You can end up with brush strokes on a surface.
If the surface you want to paint is in rough condition, then we not recommend you to use one coat paint.
After great research and experiment, we reviewed some top one coat paints available in market for different kind of surfaces.
There is different paint for walls and different for other surfaces with different finishes like gloss paint, satin etc. Read reviews and choose the best.
1-Jhonstons one coat matt paint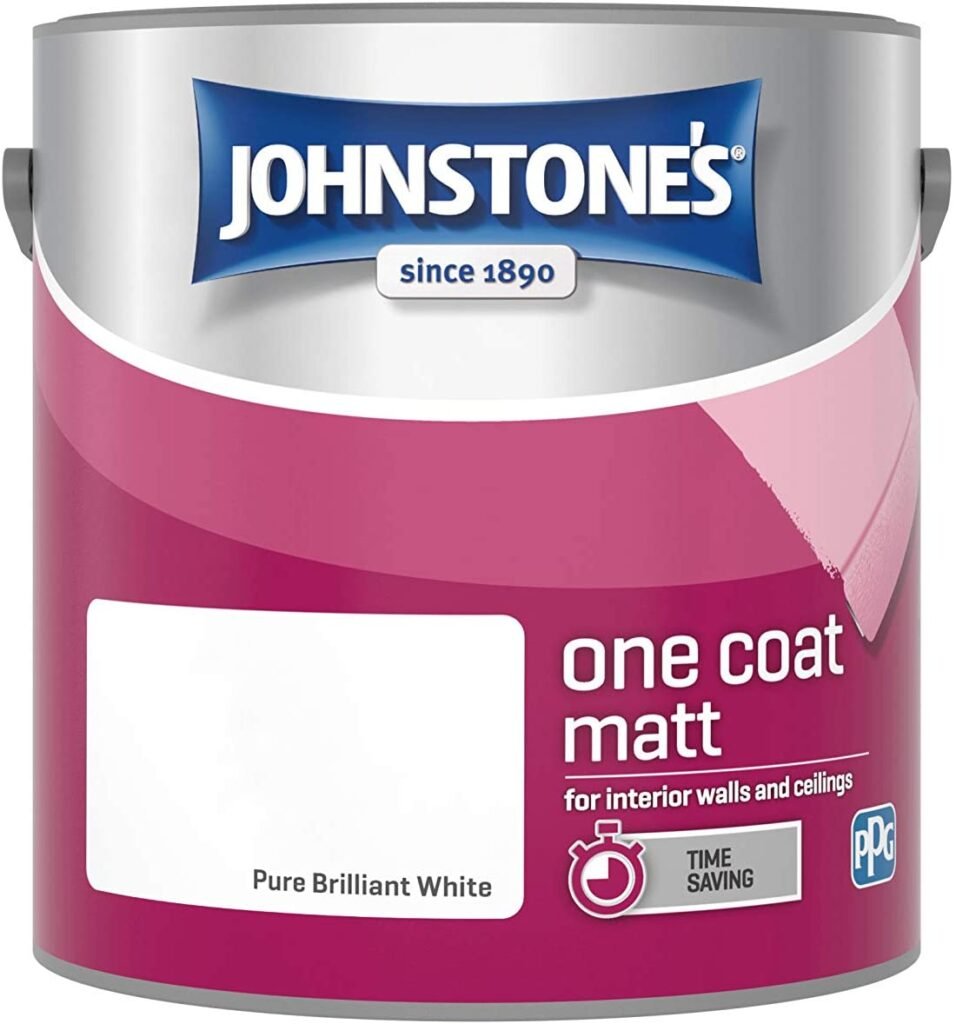 For one coat matt finish on interior walls and ceilings, we recommend Johnston's one coat matt paint. It's a time saving product because of its one coat finish and two hours drying time. So, you can do your job super quickly with fabulous matt finish on walls.
Paint has nice thick consistency which makes its texture easy to apply without dripping from brush. Use of any local paint brush can leave brush strokes on the surface, so always use high quality brush or roller to get perfect finish on single coat of paint.
Johnston's one coat matt paint available in 10 different golorious colors with almost zero smell. Paint is self undercoated, so use it directly on walls or ceiling without using any primer separately. Shake it little before use.
This water based paint has a covering power of 8 meter squared. Prepare the surface thoroughly; remove the flaked paint if the surface is already painted. It's easy to clean tools after use. Just leave it under the tap of water for few minutes and then leave it to dry.
Paint is suitable for use in all environments and dries fast even if used in winters. If there is any rough area on wall, then take some paint in another bowl and add ¼ % water in it. Apply it on that rough area so it can absorb the paint and this coat will work as primer.
Pros
Time saving product provide one coat matt finish
Quickly dries in two hours
Different shades available to match with your other interiors
Its smell is almost zero
Water based and applicable in all environments
Cons
Average coverage as compared to other products
Can leave brush strokes, recommend to use high quality roller for application.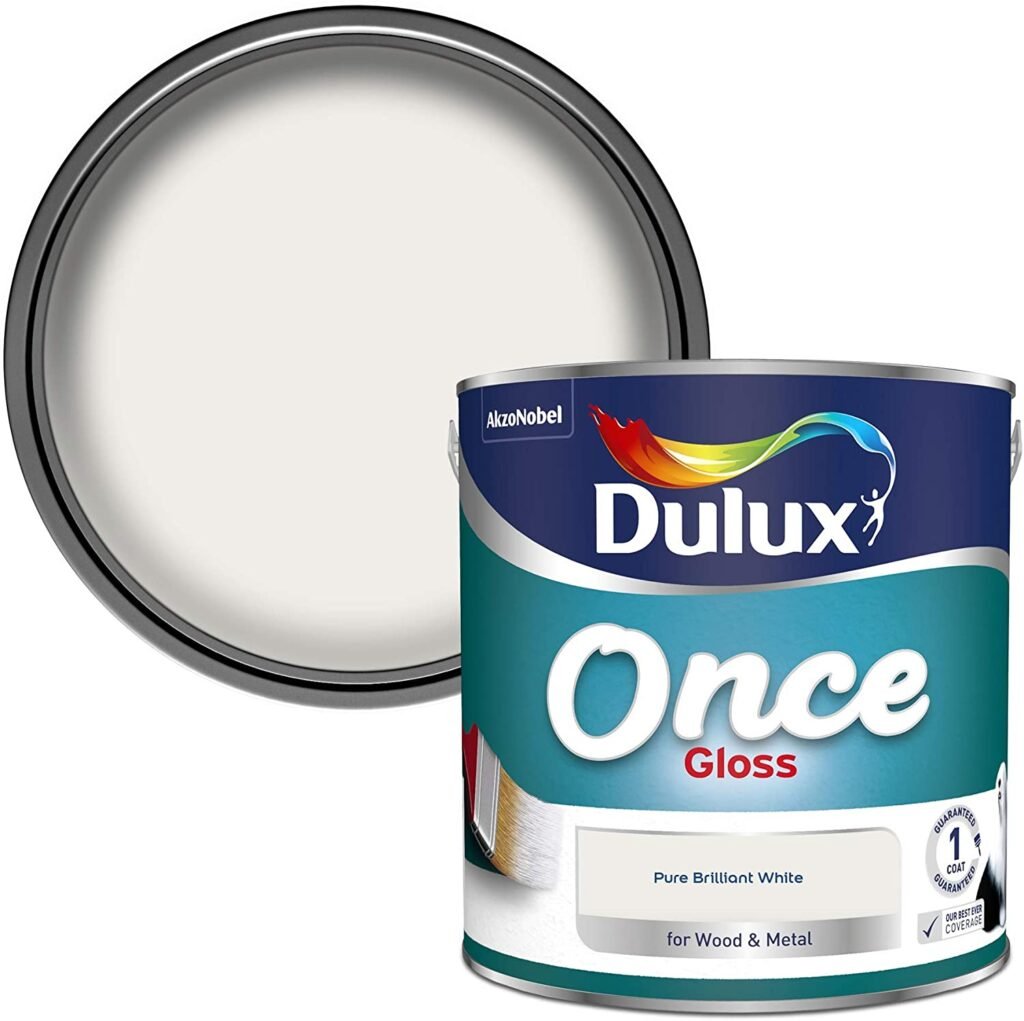 Dulux once gloss paint offers guaranteed one coat finish on interior and exterior wood and metal. Dulux is the name of brand which always introduced quality products in market. This paint leaves long lasting brilliant white finish on surface and cover minor imperfections from walls.
The paint itself contains primer, but if you are going to use it on bare wood, then we recommend separate undercoat to apply first. Paint coverage varies with surface condition; on most of surfaces it covers up to 12 square meter area.
Its formulation is based on one coat and easy application. Perfect one coat finish always depends on surface condition and your expertise in application of paint. If you failed to achieve expected finish in one coat, then you can apply second after drying time of 16 hours.
Dulux once gloss paint goes on smoothly without dripping from brush because of its great consistency. Applicable with both methods, brush and roller. Try to use mini roller instead of brush.
Already painted gloss surface can also be covered with this paint. Sand them lightly and apply dulux once gloss paint. Brushes and other tools which gets dirty with paint drops are needed some white spirit or turpentine to get clean.
Pros
If you apply generously, then you are all done with one coat
Not so runny and non drip paint easy to use
Cover sufficient area of 12 square meters.
Give shinny gloss finish with brush or roller
No undercoat need for already painted surfaces
Cons
Paint takes much time to dry, depends on weather condition
Leave the doors and windows open because paint is little smelly
Be prepared for more coats in case of bad surface condition
3-Ronseal one coat stays white paint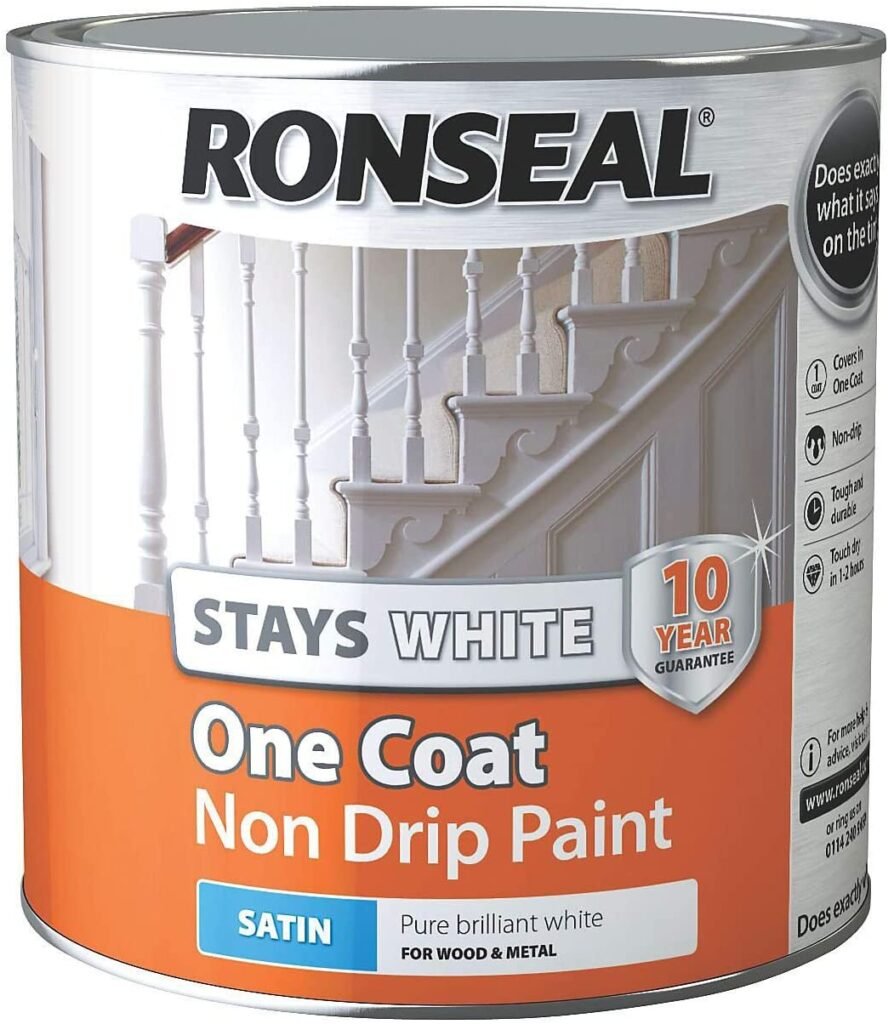 Many home owners give preference to white color instead of other colors. Rustin stays white paint keep the surface long lasting white for ten years guaranteed, ideal for interior woodwork like interior doors, windows, trims or skirting boards.
Its quick dry formulation makes it touch dry in one to two hours at normal temperature. Paint is useable on bare or already painted surface. You can apply directly without using any primer on surface.
It leaves satin, tough and durable finish. Use brush or roller and don't overload the brush to prevent it from dripping. Paint don't need stir or shake, otherwise it can go runny and will difficult to apply.
If you are not expert to apply paint, then it doesn't matter how much quality product you have, you will not be succeed to achieve your painting goal in one coat. If it needs second coat, then you can apply after 4 hours. As mentioned in name "stays white" so you have to go only with white color with this paint.
Drawback of ronseal stays white paint is that its coverage is low, which is 6 meter squared. But good thing is that it is cheaper than other paint. So, in cheaper rate, low coverage is not a big concern. Paint has no strong odor and fulfills its promises mention on tin.
Pros
One coat finish with 10 years guarantee to keep surface white
Cheaper paint as compared to others
Quickly drying and low odor formulation
Product is safe for pets and plants
Paint also do the job of primer
Cons
Coverage in not so good, which is 6meter squared
Little drippy paint, use it without shaking or stirring.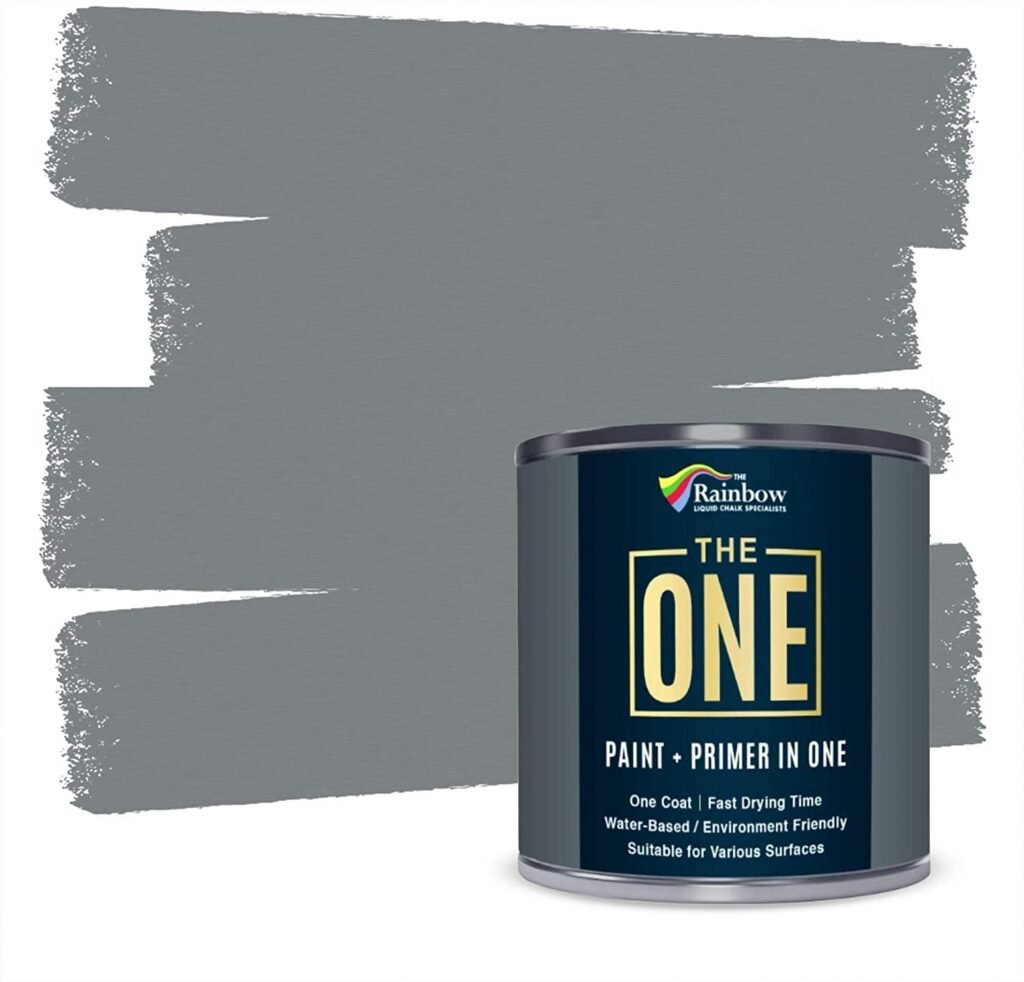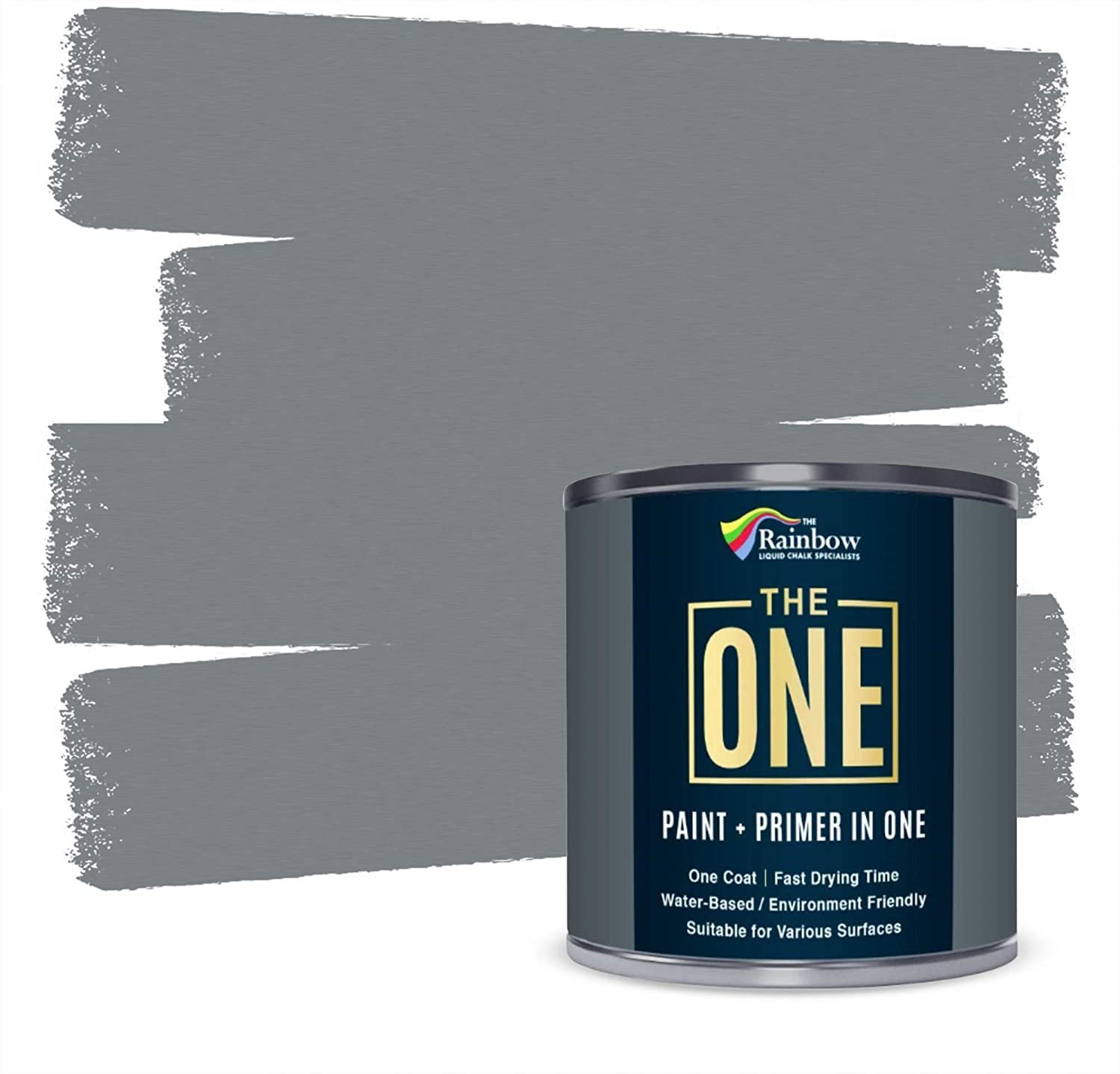 Here is another superb paint provides one coat finish on different type of surfaces like wood, metal, masonry, bricks and many other surfaces with the ability to use on both interior and exterior surfaces. Rainbow the one product provides paint and primer in one tin.
It is such a time saving product gives one coat finish on mostly surfaces with touch drying time of half to one hour. If surface is in worse condition, then it surely need 2nd coat. After two hours you can apply next coat.
Its nice thick consistency makes your work easy and applied easily with brush or roller. The one paint can also used on surface which are already painted on varnished, even if the surface is covered with bitumen. Water based formulation make the paint eco friendly with coverage of 12 meters squared.
Product is great for peoples who have lungs or chest issue or for children's, because it has low fumes with quick drying ability. Prepare the surface thoroughly to get quality finish in one coat.
With the one coat paint, you have a option to chose color from large range of colors. If the surface you need to paint is at low ventilated place, then this paint is perfect, because it has low VOC content.
Pros
No undercoat require even on bare surface
Idle for multiple surfaces like wood, metal, plastic , glass etc
Range of colors available
Eco friendly paint has a super fast drying time
Available in three different finish and three sizes of 250ML, 1L and 2.5L
Cons
Only drawback is the paint is little tricky to get perfect finish in coat. In many cases, it needs more coats.