While there are various alternatives for covering your radiators with specialized radiator covers, they may be vast and expensive, taking up a lot of floor space and hurting your wallet/purse. Using a fresh coat of best radiator paint to breathe new life into dated or yellowed radiators is a terrific alternative to radiator covers.
While it may appear complicated at first, giving a radiator a fresh, perfect appearance is easier than you think. You can read out article how to paint a radiator, to do it in a right way.
You'll need a decent metal heat-resistant paint that you can apply with a paintbrush, roller, or spray that can work efficiently on radiators.
While various paints for woodwork and metal are available in the UK, selecting a color specially made for radiators can be more challenging.
So, how can you put new life into an old radiator while keeping it looking good? Radiator paint is simple to use and inexpensive.
EDITOR'S CHOICE
Hammerite REG500 Radiator Paint
Suitable for Radiators
Coverage: Up to 7m2 per 1L
Drying Time: Touch dry in 4 to 6 hours
Required Coats: 2
PREMIUM PICK
Dulux Quick Dry Gloss Radiator Paint
Suitable for Wood and Metal
Coverage: Up to 16m2 per 1L
Drying Time: Touch dry in 1 to 2 hours
Required Coats: 2
BUDGET PICK

Hammerite REGAERO Paint
Spray paint for Radiators
Coverage: Normal coverage
Drying Time: Touch dry in 4 to 6 Hours
Required Coats: 2
The Hammerite REG500 500ml Radiator Paint Gloss White 500ml offers drab and yellow radiators a durable gloss finish, giving them a fresh lease on life. This paint may also provide water pipes and metal with a gleaming, white glossy surface resistant to chipping and scratching. It is unquestionably a long-lasting paint.
The Hammerite REG500 Radiator Paint is a low-odor, solvent-based paint that didn't smell any worse than regular gloss paint throughout testing.
However, it has a high VOC (volatile organic compound) content, which necessitates specific care.
Hammerite radiator paint should only be used in well-ventilated locations, so open windows and check for enough ventilation before you begin painting — the more ventilation, the better.
On a more positive side, the high VOC content of this paint helps to maintain and present your radiator since the VOC prevents the white gloss from fading, which is standard on vintage radiators.
The Hammerite Radiator Paint dries to the touch in 4-6 hours; however, if you're applying a second coat, wait 12 – 16 hours for it to be scorched for the best results.
Allow enough time for the first coat to dry before applying a second coat for best results. You will get full coverage with two coats if you allow enough time for the first coat to dry.
This paint needed three coats to cover a black radiator without showing through ultimately.
The best radiator paint, according to DIYBoss, is Hammerite, which often outperforms own-brand products.
This paint has a long-lasting, non-yellowing gloss finish that is simple to apply and gives rust protection with a beautiful white finish, making it ideal for all your house radiators.
Pros
Excellent paint coverage of up to 3.5m2/500ml tin (7m2 per 1L).
Brush or roller application is simple.
The discoloration is minimized using non-yellowing gloss paint.
On radiators and hot pipes, heat-resistant paint provides long-lasting effects.
For complete coverage, use two coats.
Satin White, Gloss White, and Quick Dry formulas are all available.
Cons
Because the paint has a thin/watery consistency, it might drip a lot and cause a mess. It's a minor flaw in the color, and we find it quick and straightforward to deal with.
2-Dulux Quick Dry Gloss Radiator Paint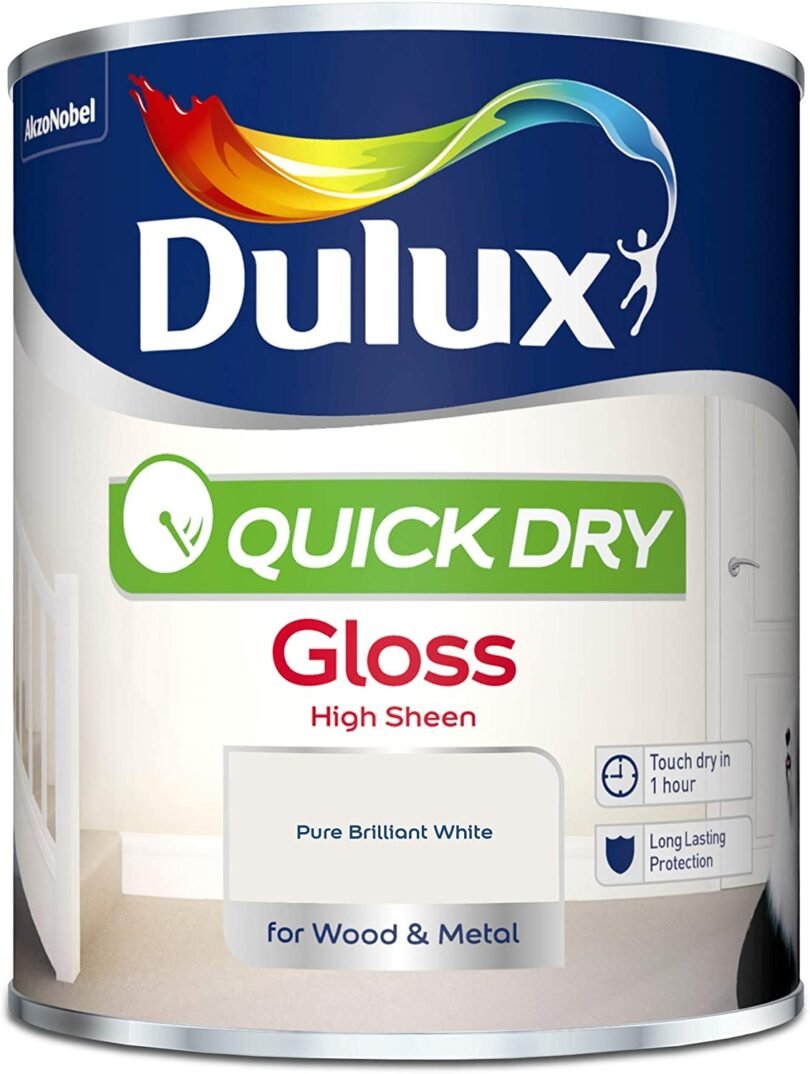 Dulux Quick-Dry for Wood and Metal Paint is a high-sheen gloss paint that's ideal for radiators. This paint may be applied without priming or undercoat, and it is simple to use.
While not as long-lasting as other specialized radiator paints, we were pleased with the results, especially if you're seeking a water-based paint, which the Dulux Quick-Dry Gloss is.
If there's lots of air and the room temperature isn't too cold (Spring/Summer weather), the paint should be dry to the touch in about 1-2 hours.
Dulux Quick-Dry for metal and wood paint, like other water-based paints, may be relatively thin when applied, and it will need at least two coats to cover a yellowed radiator.
It performs an excellent job of brightening radiators. Thanks to its quick-dry recipe, it allows you to paint radiators more quickly. The paint comes in a 750ml tin, claiming that it will cover 12m2, but you'll need at least two coats when painting a radiator.
Although you won't receive the benefits of using hard-wearing oil-based paint, we included this Dulux because of its versatility and availability in various colors and finishes.
Pros
Water-based paint with a low odor — this paint emits very little odor.
It can come in a satin finish or gloss too and a variety of colors to match your home style.
In 1-2 hours, it dries quickly.
12m2 will be covered using a 750ml tin.
Cons
At the very least, two coats will be required.
It's not as durable as oil-based radiator paint.
The consistency of the water might result in a sloppy application.
3-Hammerite REGAERO Radiator Spray Paint

The Hammerite REGAERO Radiator Spray gives any radiator a long-lasting shine finish. It's a high-gloss formula that creates a sturdy, durable surface with many sparkles, and it's the finest radiator spray paint we've seen.
It's one of the fastest paints to apply, with a drying period of roughly 2 hours and the ability to re-paint after only 15 minutes (though we always leave 2 hours).                                  
This radiator paint should be considered if you want to complete the work in the shortest period possible.
Hammerite Radiator Spray Paint is simple to apply, but because it is a spray, make sure to leave adequate space around the radiator for the paint particles to disperse.
Cover at least 1 meter around the radiator with drop cloths to prevent paint from spreading to adjacent items or walls.
The spray is simple to use and won't leave ugly markings like brush strokes, but it must be sprayed evenly and with a steady hand.
Although the spray dries rapidly, it is spread thinly, so you'll probably need more than one layer to achieve the best effects.
It's ideal for individuals who wish to avoid using a paintbrush or roller while still getting a smooth, heat-resistant gloss finish on a residential radiator in a short amount of time. Although the 400ml capacity is not optimum – you will obtain roughly 0.5m2 per liter – you may need more than one can for rapid minor projects.
Pros
The drying time is only 2 hours.
After only 15 minutes, it's re-paintable.
With radiator spray paint, you can avoid brush marks.
It's simple to use.
A fantastic high-gloss finish.
Cons
With just 0.5m2 per Litre, you'll need a few cans.
Paint may go a long distance from the spray can, so keep the area surrounding your radiator clear.
Per liter, it is more expensive than other paints.
4-Rustins RADS250 Quick Dry Radiator Paint
The Rustins RADS 250ml Quick-Dry Radiator Paint has a satin finish and dries in 30 minutes. Although this paint is also available in a gloss finish, we chose to include a highly rated satin radiator paint in this selection because not everyone prefers a gloss finish.
This quick-drying radiator paint from Rustins is made with a unique non-yellowing acrylic emulsion and high-quality white satin pigments to provide a white finish that is yellow resistant, robust, and long-lasting.
Keep in mind that this paint is suited for household hot water radiators but not for electric oil-filled radiators.
For the most outstanding coverage and smooth finish, apply at least two coats for at least 4 hours before re-applying the paint for the second coat. Rustins is a low smell paint that will take between 1 and 2 coats for most radiator paint jobs.
Rustins Quick-Drying Radiator Paint has coverage of roughly 14m2/Litre, giving you enough in a 250ml for about 2.5m2. It's not a huge lot, but it'll cover 2-3 radiators in numerous coats.
Before applying the paint, make sure it's thoroughly mixed and that the radiators are excellent. For the most significant results, use a synthetic fiber brush and wait at least 2 hours after you've finished painting the last layer before turning on the heat.
If you're searching for a satin water-based radiator paint that dries quickly and applies simply with a brush, this is the paint for you. Keep the coatings thin to minimize sagging paint, and because it's water-based, you can quickly clean the brushes with water.
Pros
Water-based, so it's simple to apply to the radiator and clean off paintbrushes.
It has a low odor and dries quickly (in 30 minutes for touch dry).
Before reapplication, only 4 hours of drying time are required.
White pigments that are non-yellowing and give long-lasting coverage.
Satin and glossy finishes are available, as well as 250ml, 500ml, and 1 Litre capacity tins.
Cons
For complete coverage, you'll need at least two coats.
For more than a handful of radiators, a larger than 250ml tin will be required.
Because the paint is so thin, apply it evenly and wait for it to dry completely before reapplying.
5-Ronseal One Coat Radiator Paint
The Ronseal Stay White One Coat Radiator Paint comes in a white gloss finish. Though we were skeptical about the one-coat promise, we were pleasantly surprised when we tested it. The majority of one-coat formulas will not produce a better finish than applying two coats of paint.
This is a specialized paint developed to preserve and cover domestic water-heated radiators in the house; Although we've heard that non-primed surfaces get the most outstanding results, we always recommend priming naked radiators.
Is it true that there is only one coat? If the paint is being applied over a somewhat yellowed surface, you can generally get away with just one application.
However, suppose you're painting anything other than slightly yellow radiators. In that case, you'll need at least two coats to get the best effects.
The paint is heat resistant and produces a robust, long-lasting surface, although it takes 24 hours to dry (not touch dry) entirely. In a well-ventilated room with some heat, the Ronseal radiator paint was touch dry in as little as 6 hours.
Although this paint produces a high-quality finish, there are better choices available. It states stay white, and we discovered that because of the high VOC, it is less prone to yellow than other paints.
Pros
Rust-resistant solvent-based paint that also protects against scratches and bumps.
Oil-based paint has a reasonable drying time.
This paint has a thick consistency.
Cons
While the thick consistency makes it easier to apply, it also means that this paint has insufficient coverage.
6-Johnstone's - Quick Dry Satin - Mid Sheen Finish
This paint is from Johnstone, a well-known paint brand in the United Kingdom. The 1.25L satin white tin that I've highlighted is one of several color possibilities available, including coffee cream, black, frosted silver, and pink Cadillac, to name a few. It's also available in a 2.5L tin.
What about the actual paint? Although the art on the container suggests it was intended with radiators in mind, it's a versatile paint used on interior metal and wood, from radiators to skirting boards.
This water-based paint dries quickly, taking about 2 hours or less to dry to the touch. It's also heat resistant so that it won't become yellow over time. It's also a low-odor composition that doesn't require a primer or undercoat because it's self-undercoating.
Pros
Interior wood and metal, such as skirting boards, radiators, doors, and stairwells, are suitable.
The drying time is about 1 to 2 hours.
Non-fainting
odorless
Undercoating on its own
Cons
There are ingredients in this product that might trigger an allergic response.
Preparing paint surfaces from the 1950s and 1960s on wood and metal
Special care is required because some items may contain hazardous lead.
Outside usage is not recommended.
7-Rust-Oleum AE0050002E8 400ml Painters' Touch Spray Paint - Satin White
Now, you might be wondering, "Wait, that's spray paint?" You are correct. Spray painting radiators produce a superb finish with no brush strokes, making it a popular choice among many people, so I thought I'd add it to the list.
It's a little more challenging to paint radiators using this method since you'll have to pull them off the wall to cover them thoroughly.
Let's go into the product itself; it's another Rust-Oleum product, and this is the second time I've highlighted them. The spray has a white glossy finish and may be used to paint a wide range of surfaces, including radiators.
It's simple to apply and dries quickly, leaving a beautiful finish with rust resistance. Hard-wearing, water-resistant, strong, and UV absorbent, the paint does not fade or yellow.
According to the company, it will also cover more than 50% more area than competing sprays on the market.
Pros
Spray paint has a more equal coating than brush paint since there are no brush strokes.
It takes a million times longer to apply spray primer than it does to apply brush priming.
Paint that is sprayed on is a million times faster than paint that is used with a brush.
Oil-based spray paint is often more durable than water-based spray or conventional latex paint.
Cons
Beyond the beautiful 'Heirloom White' and part of Rustoleum's 'American Accents' collection, there are limited color possibilities compared to latex paint.
The cost of spray paint per square foot of coverage is higher.
Spray paint demands a well-ventilated environment to work in. It is not suitable for usage inside.
Drips are challenging to master. I wipe off beads with my finger, but this detracts from the smoothness of uniform coverage.
Buying guide for radiator paint
Resistant to Heat
Heat-resistant paint will be required.
The paint must be able to endure regular blasts of 60-80 degrees Celsius from some radiators.
Check the coating's performance under these settings by inspecting the container or aerosol spray.
Long-lasting
Radiators are frequently visible and exposed in rooms.
They're also used to dry clothes in the winter, although they're prone to wear and tear.
The paint used on the radiator should be durable.
Finishing of paint
The type of paint you choose is mainly determined by the look you want to achieve.
The radiator's finish will eventually affect its appearance and aesthetics; the finish is a personal decision, so if you're undecided, learn more about the many sorts of finishes.
Radiator Paint in Gloss
This paint has a glossy, slick, and sleek finish, as the name indicates. If you want a reflecting finish reflecting light about the room, you should go for gloss paint.
When painting a radiator, Keep these things in mind
Make sure the radiator you're painting is switched off.
Before painting the radiator, make sure it's clean and dry.
Before painting, always apply a decent primer.
To avoid damage, make sure space is sufficiently ventilated and that any furniture, rugs, or other items are well covered.
To avoid unattractive brush marks, keep a 'wet edge.'
Allow paint for at least 24 hours to cure before adding a second layer.
After you've finished, please switch off the radiator for a day or two before turning it back on.
There will be a scent; this is typical; keep the room aired.
After spending time developing and testing radiator paints, it all boils down to what you require from the color to recommend the ideal option. Consider the Hammerite REG500 Gloss White 500ml for specialized radiator pain. It's perfect for high-quality, long-lasting gloss finishes that won't yellow.
Hammerite Gloss Spray Paint 400ml is a good choice for spray paint. It will be quick and straightforward to implement. Keep in mind that spray paint spreads and produces a large number of tiny paint particles.
To avoid paint getting on the walls or floors, draw a line around the area and make sure you have a mask, appropriate ventilation, and drop cloths.
Most frequent questions and answers