Decided to paint your old skirting boards? All you need to do is select the best paint for skirting boards, best painting material and best method for application.
When you go to market to buy paint, you get confused after seeing number of products available for painting skirting boards and you don't know which paint is suitable and qualitative.
As skirting boards enhance the beauty of home and looks great. But, if you paint it with any local low quality paint, then after some time, it will starts to look dirty and all your effort and money will be useless.
This article will make you confident to select the best paint for skirting boards. So, read the reviews below pick the right product and make your skirting boards look fabulous.
You can do this job by yourself, instead of hiring a painter. You don't need to be professional painter to apply the paint. Just read a blog post on how to paint skirtings and do it by yourself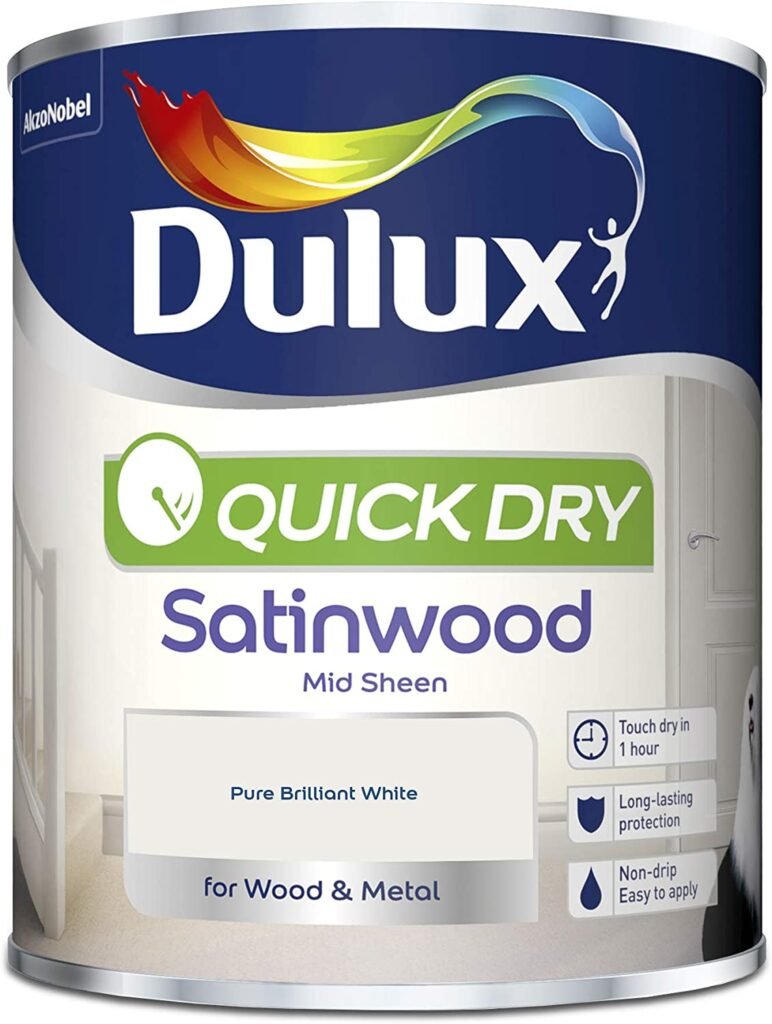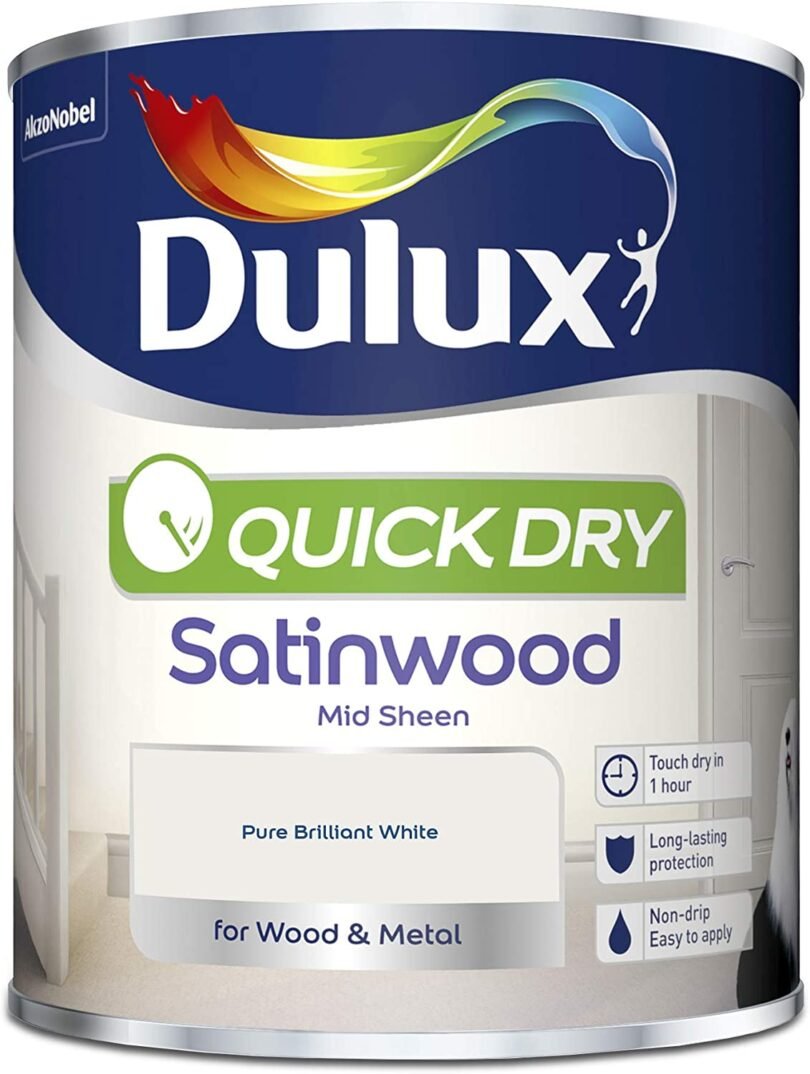 The dulux quick dry satinwood paint offer a long lasting mid sheen finish and prevents the brilliant white color to turn yellow over the time. It has nice consistency that makes it non drip and easy to apply on interior woodwork like doors, windows, skirting boards and metal surfaces.
As mentioned in name, it's a quick dry with super faster drying time of one hour to touch the surface and take 6 hours to dry completely then ready for next coat. Keep the door and windows opened until the paint dries fully.
Dulux quick dry satinwood requires two coats and can be applied directly instead of using primer on the surface. If the color change is strong then sometimes it needs more than two coats. The paint can also be used over the already painted gloss surface. Just sand the gloss surface lightly and apply its two to three coats.
The paint based on low odor formulation with incredible coverage of up to 12 meter squared. Use synthetic bristle brush or mini roller for application. Painting tools can easily be rinsed with warm water after use.
Dulux quick dry satinwood water based paint is a perfect choice to give your skirting boards attractive mid sheen finish, especially if you want your job done quickly. Follow the instructions mentioned at the back of tin for excellent result.
Pros
Very quick drying time, touch dry in one hour
No bad smell like other paints
Excellent covering power of 12 square meter.
Non drips because of its good consistency
Different colors available to match your skirting boards with your wall colors.
Cons
Minimum two coats required
Cannot be used over the surface painted with oil based paint.
2-Johnston's quick dry satin paint for skirting boards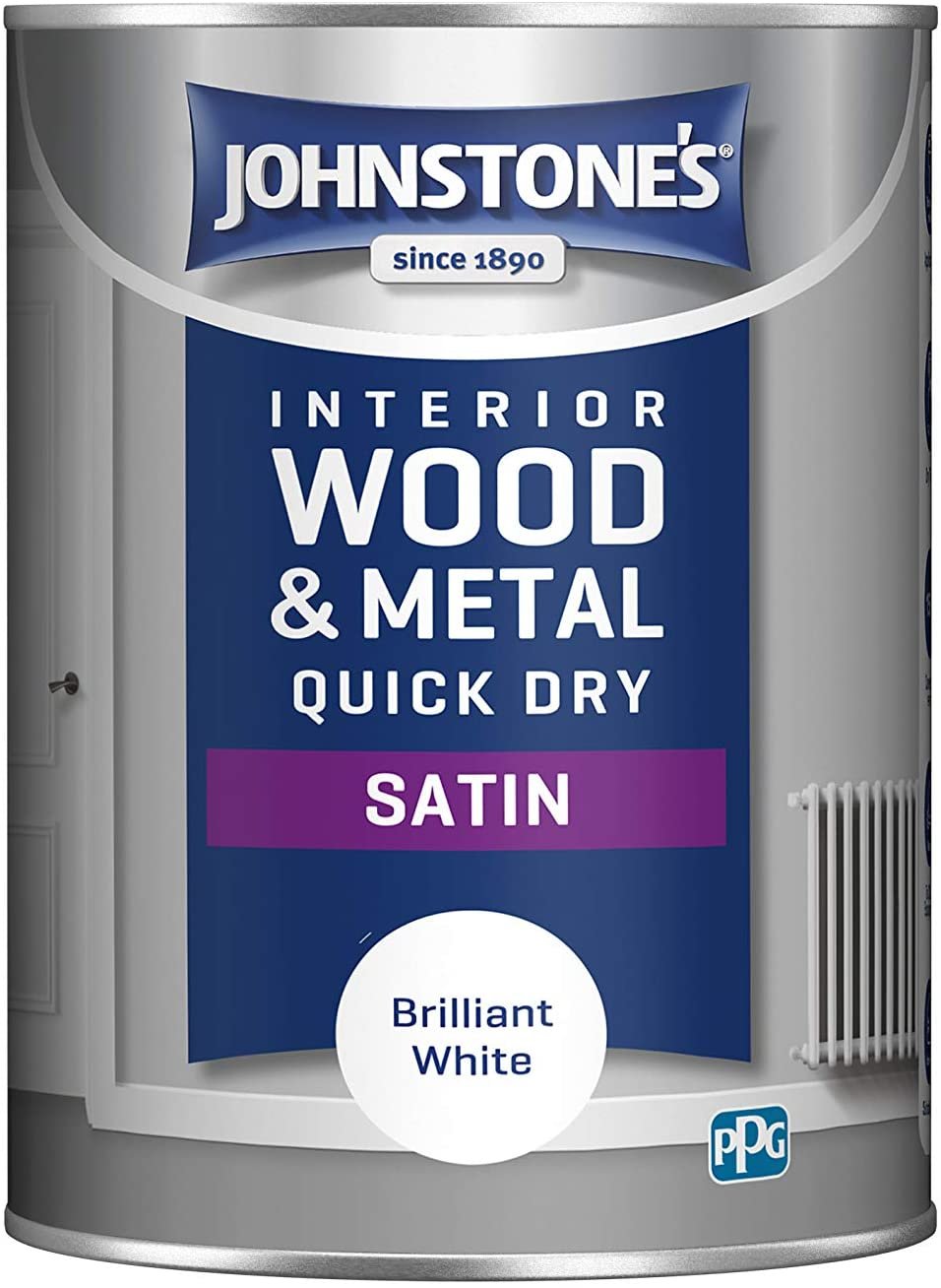 Johnston's quick dry satin is such a lovely paint for skirting boards and other wood and metal surfaces that leaves mid sheen finish and make the look very pretty. This is water based paint and self undercoated also suitable to use on radiators and staircase.
It has a quick touch drying time of 1-2 hours and 2-4 hours for recoating. Hopefully, you will be all done with one coat if you apply it in right way also depends on the condition of the surface. But, we recommend two coats for better finish and full protection.
As it is water based and dries much faster, so it's a little hard to apply. You have to work faster while using this paint. We suggest you to work in small sections so you can get excellent finish.
Its low odor formulation makes it pleasant to use, like oil based paint, Johnston's quick dry brilliant white finish doesn't go yellow with time. Use quality brush to apply paint and covers 12 meter squared area with one liter and one coat.
It can also be used over the oil based painted surface if you prepare the surface thoroughly. Sand it down, clean it and make sure it is well dried and then apply the paint.
It's a little bit difficult to apply this paint because of its thick consistency and quick drying nature. So it can leave brush stokes on final finish. So make sure you have a high quality brush to paint with.
Pros
Can be used on many surfaces like wood, metal, radiators and staircase
Quick drying and low odor paint
Water based, easy to clean everything after use
Ideal for use on surface of oil based paint
Self undercoated paint
Doesn't get yellow with time
Cons
It can leave brush stokes
Little hard to dry but give really admirable results.
3-Dulux quick dry gloss paint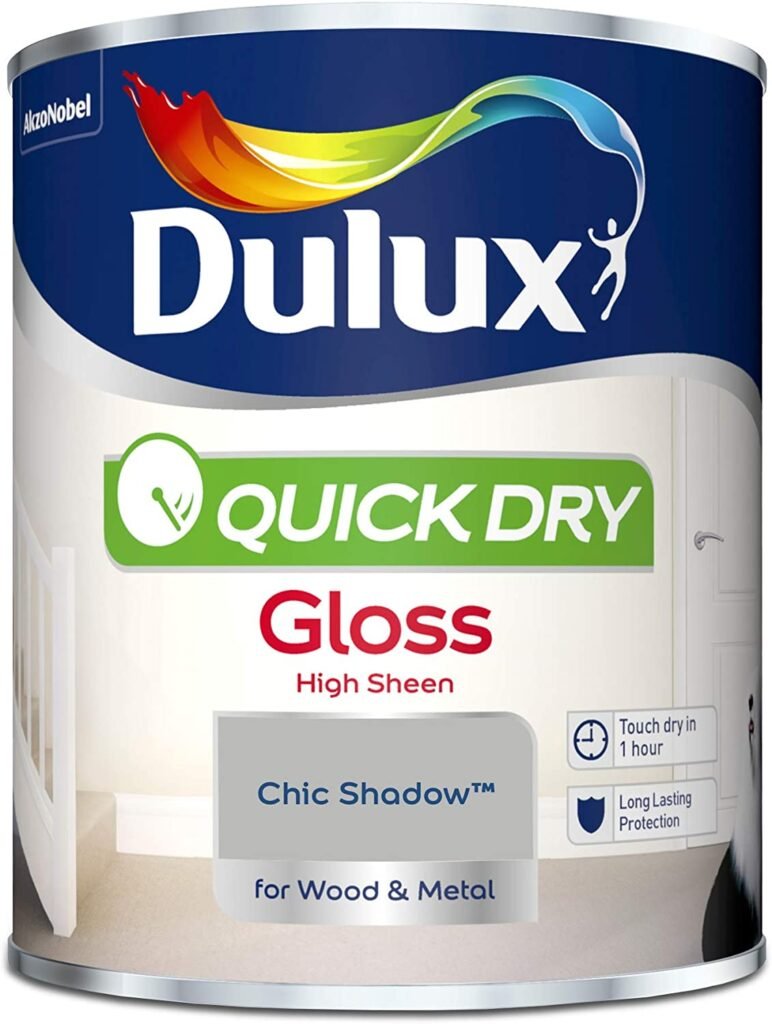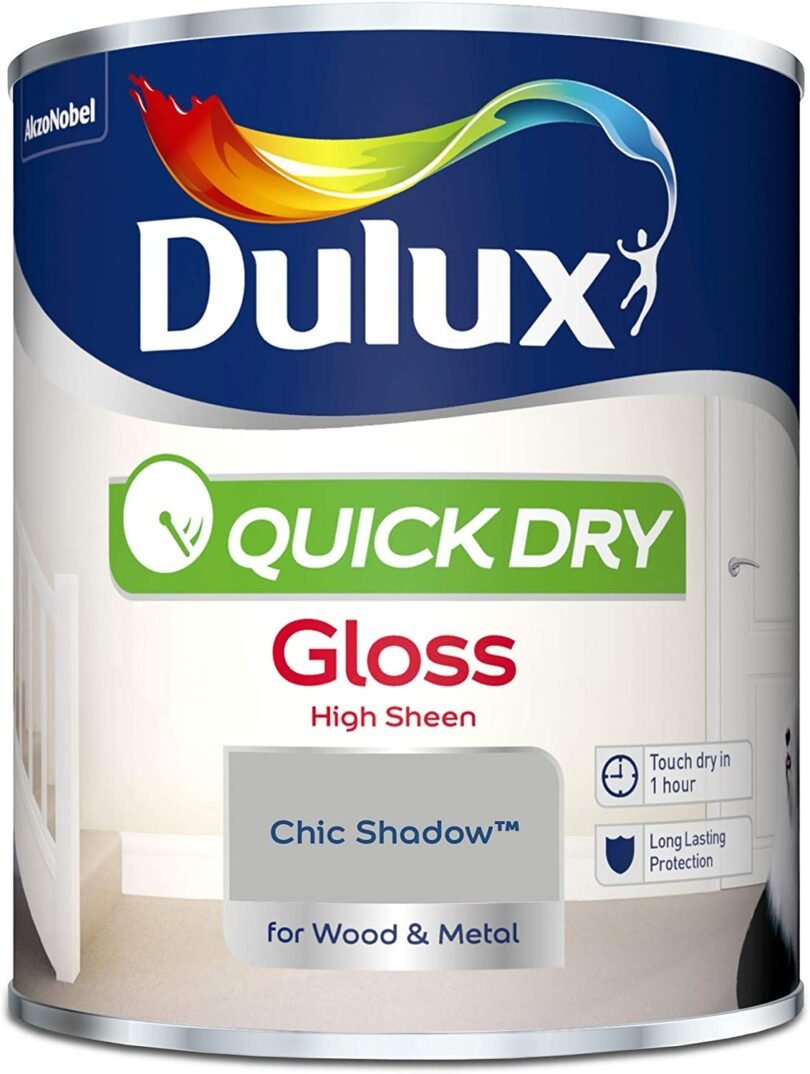 As we discussed above the high quality product of dulux in satinwood finish, here is another quality product of dulux in gloss finish. So, if you want to protect your woodwork and metal for long term and want to get finish in gloss, then dulux quick dry gloss is a perfect choice.
With this paint, you will enjoy the extreme coverage of 16 meters squared per liter with one coat. It is also a quick drying product, can be touched on less then hour. Always apply two coats with the interval of 6 hours.
It has thick and creamy consistency, easy to apply paint. The key to get the perfect gloss finish is a use of a quality roller or brush to apply paint. So, avoid using local brush otherwise you will not get the expected finish.
This gloss paint is suitable for all type of interior wood surfaces like doors, skirting boards and windows. Instead of this, it can also be used on radiators. It's a wipe able paint with less obnoxious fumes, will not discolor or yellow over the time.
Separate undercoat is not needed and applies this paint directly. It needs a good stir before use. Another good thing that it is water based, so dirt can easily wipe and it's also easy to clean painting tools under the tap.
Pros
Great quality product give shiny gloss finish
Touch dry time is less then hour
Has a excellent coverage of 16 square meter
Wipe able and less smell paint
Water based and self undercoated
Easy to use and clean
Cons
4-Rustin small job white skirting boards paint
If you have small area to cover likes skirting boards in any small room. Or you want to paint skirting boards of any specific area of house where it gets dirty to due to some reason or accidently, than you can choose rustin small job paint. It is especially formulated for painting on small projects.
The paint is ideal for skirting boards and any other small wood work or metal work, whether it is inside the house or outside. Another good thing that this paint can also be used on children's toy and furniture because it is formulated according to toys (safety) regulations.
It comes in 10 different attractive colors and in size of 250ml tin with approximate coverage of 3.25 meter square per tin. Paint dries in half hour for touching and takes 2 hours for recoating. Depends on surface condition and your painting skill, either it take two or three coats for perfect gloss finish.
 It is not runny and not drips from brush because of its great consistency, and goes on smoothly. Rustin quick dry gloss paint is hardwearing, water based paint and has no very bad smell which make will make it unpleasant to use like any other oil based paint.
As it comes in only 250ml tin, so be sure and measure the surface before ordering to get enough amount of paint. You don't need to worry about the color of paint, it comes in exactly the same color as it shows on tin.
Pros
Available in small size so perfect for small projects
Children's toys can be painted
Dries very fastly
Water based and hardwearing paint
Fumeless and pleased to use
10 glorious colors available
Cons
It needs three to four coats for some surfaces.
5-Ronseal one coat stays white paint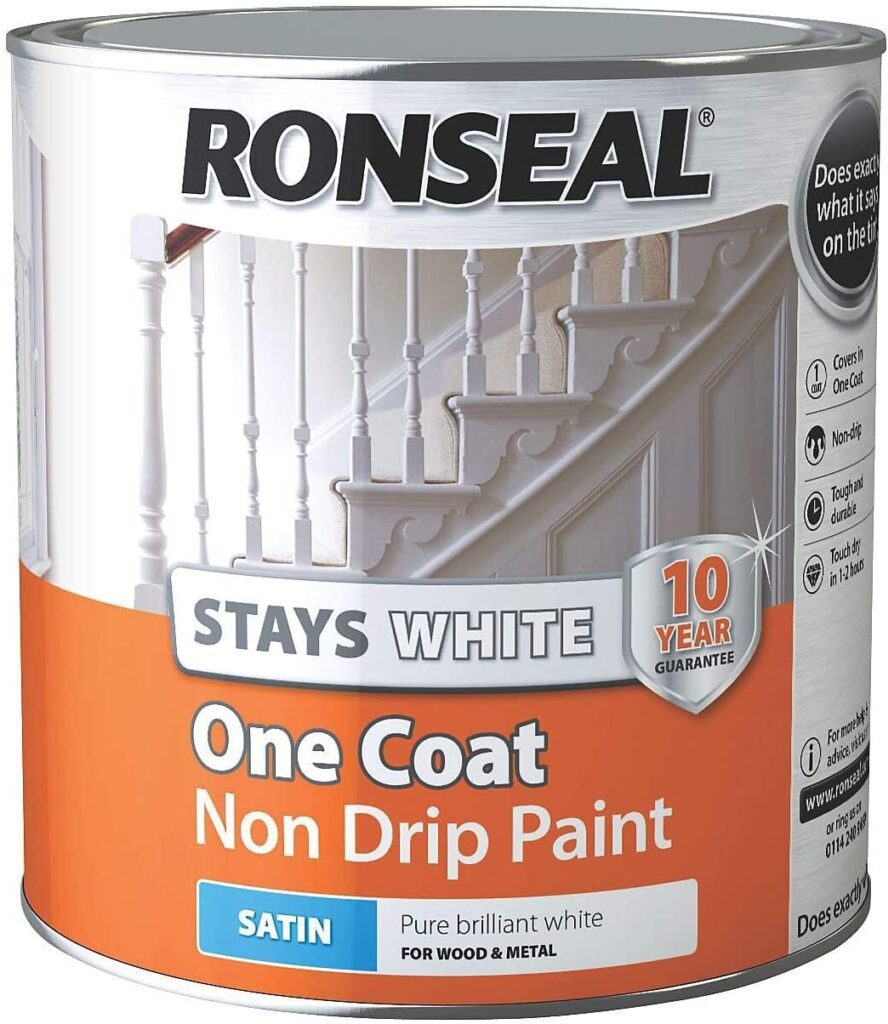 White color always looks great and enhances the beauty of house. If you want to apply white color on your skirting boards, or on any other wood and metal work inside the house, then we recommend to use roenseal stays white satin paint which only comes in brilliant white color.
It is a non drip and water based. As tin says it's a single coat paint. But it happens only in that case when you apply it like an expert painter after cleaning the surface properly. If you can't, then you need more coats. Apply second coat when first dries completely.
The paint is off a little thick consistency and easy to apply. Its smell is quite bearable, you can use room while painting. It also gives touch dried surface in 1-2 hours after its application.
Along the advantages of ronseal one coat non drip paint, you might be disappointed from the coverage perspective, which is 6-7 meters squared in one liter. But, if you succeed in achieving the expected result in one coat, then its coverage will not be concern.
Make the surface of skirting boards dried and apply the one coat of primer first. Then apply ronseal one coat paint over the it. One key thing to remember that not shake or stir the paint, otherwise it can goes watery. Just use the paint as it is after opening the can.
Pros
You can finish your job with one coat
Provide tough and durable surface
Touch dries in 1-2 hours
Protects surface up to 10 years
Based on non drip formula and less odor.
Cons
Not a good covering power
6-Rust oleum universal all surface paint
If you are looking for oil based paint for your skirting boards, then rust oleum universal all surface paint is best. Instead of wood you can also use this paint on multiple surfaces like metal, plastic and ceramic.
It is based on advance durable formula for use on both inside and outside the surface. As the paint offering paint and primer in one, so you can apply rust oleum universal paint directly on any surface.
While using it on skirting boards, make the room well ventilated because paint has very strong smell. It dries too quickly and ready for touch in 2 hours and completely dry in 8 hours for second coat if needed.
Brush application method is most sufficient to apply on skirting boards. Because of its thin consistency, it can drips from brush so prevent the brush by overloading. With the coverage of 9 meter square, it will goes a long way and you will enjoy a perfect gloss finish on your skirting boards. Multiple colors are available in rust oleum all surface paint.
Prepare the skirting boards for painting and spread the cloths underneath, so paint drop will not drip down on the floor. You can see slight difference in actual color then it on outside of time. Most oftenly, colors seem darker on the tin.
As it is oil based, so if you don't clean the painting tools immediately then it can be little challenging to clean after dry. Clean the tools like brush or roller with white sprite then rinsed them with water
Pros
Paint and primer in one
Multi surface paint
Can be used over rusted surface
No of colors available in this paint
Easy to apply, nice coverage
Cons
Thin consistency paint, little dripy
Some colors come in little light shade then it on tin