As we all know due to the constant use of interior doors, they need maintenance. Their paint starts getting faded over time so you need to repaint them for a clean and eye-catching look. Also, if the door's paint is damaged, you may face difficulty opening and closing the door.
There is a wide range of paints available in the market for interior doors. But for your ease after long deep research, we are compiling a list of the best paint for interior doors along with their pros and cons so you will better understand their application and formulation.
Furthermore, we are adding some tips and tricks to apply paint and a complete buying guide which will help you to choose the best paint for internal doors. If you want to give your doors glossy finish then you can read our review article on best gloss paint.
This fine finishing Dulux quick-dry satinwood paint is number 1 in our list and considered the best paint for interior doors because of its single coat application.
Along with wood doors and furniture you can apply this paint on metal surfaces also without applying primer.
Formulated with water-based material and can be applied directly on previous painted and primed doors.
Dulux satinwood paint is formulated with low volatile organic compounds and leaves low odors in your rooms and make its drying up time super fast. This paint touches dry in just 1 hour.
Though this paint has an excellent finish after a single coat but on porous or damaged surfaces you can recoat it after six hours.
This paint is more in demand in pure white colour but you can choose from 19 other colors also.
Satinwood finishing is in between glossy and matt finishing and gives bold and bright colour on your wood and metal door. Compared to many other paints it is more durable and prevents your door colour from turning yellowish.
This non-dripping and super easy to apply paint comes in various sizes but you can cover a 12 meter area with 0.75 litre tin.
Pros
No need to apply any primer or undercoat.
Featured with low volatile organic chemicals and prevents the surface from discoloration.
Quick-drying time and can be repainted after 6 hours.
Offers durable and perfect finishing after a single coat.
Cons
It is water-based paint and cannot give satisfactory results on oil-based surfaces.
Some users complained that they did not get pure white color.
Leave brush marks on the surface.
2-Johnstones Non-Drip 303895 Gloss Paint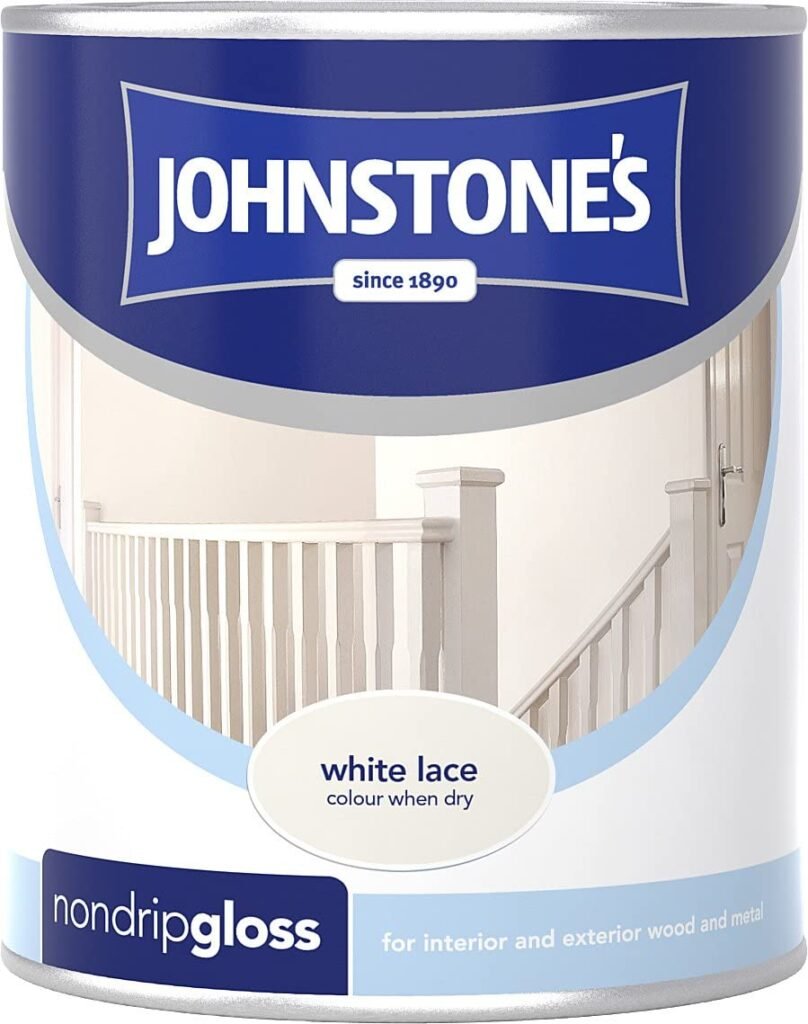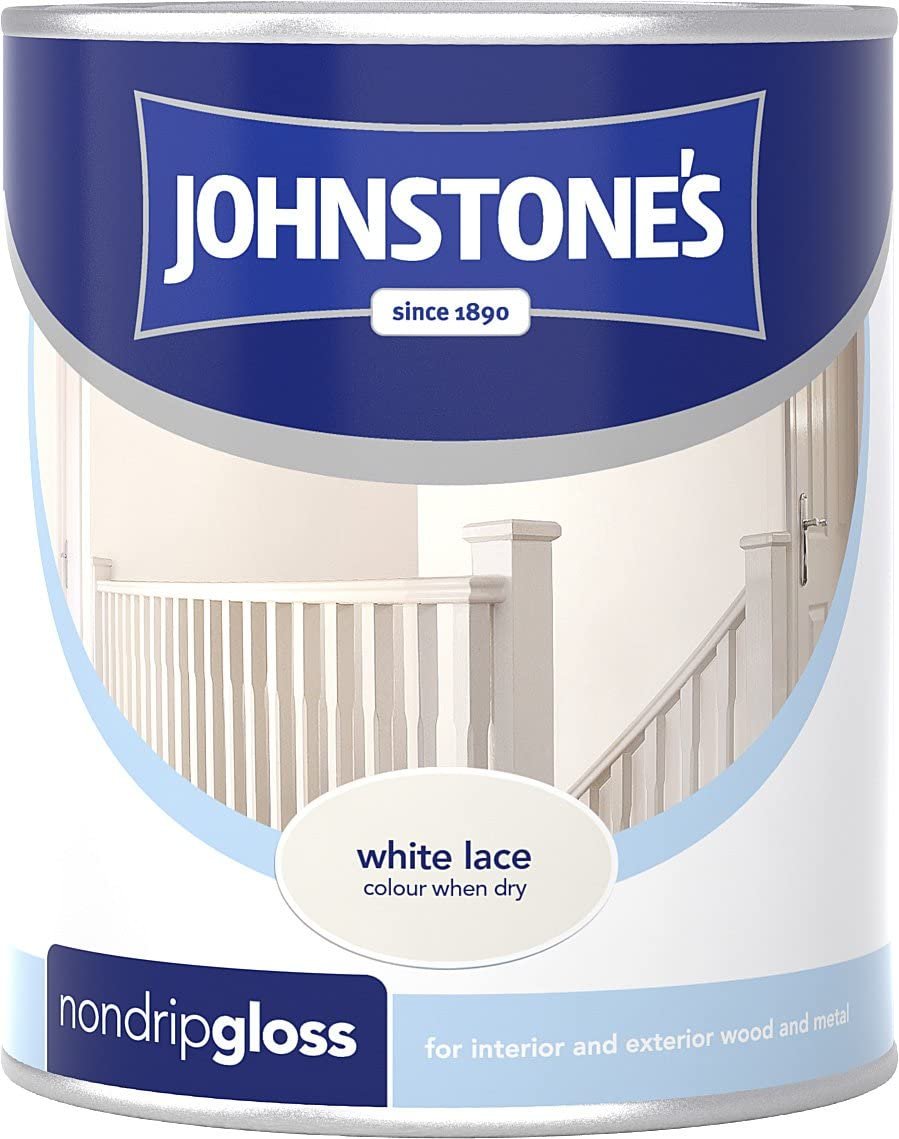 If you want a reasonable and high quality paint then Johnstone's gloss non drip paint is the best option you can buy. This paint is considered best for interior wood and metal doors as well as for the exterior doors. It offers a high sheen and durable finishing.
With this paint you have no need to apply base and top coat. It goes well with previously painted and new doors.
Though this paint comes in many colors but 2 colors are more in demand:white lace and brilliant white.
This paint is best for people who do not want to switch from white color but want to add a little bit of stylish colours into their interior because when white lace colour dries it turns out to be off-white with slight ivory.
You do not have to be worried about preparing the surface. Primer is only needed on non ferrous, galvanised surfaces. Priming is not compulsory with this paint.
This paint is thick in consistency and can be applied easily with a brush. It offered excellent finishing and did not leave behind any stroke.
Johnstone's Non-Drip gloss paint is formulated with low volatile organic compound and its drying up time is just 4 hours but if another coat is required you can repaint your door after 16 hours. It covers 10.5 meters in 0.75 liter tin.
Pros
Though this is an oil based paint it offers excellent finishing in just a single coat.
Non-drip formulation.
Comes in 16 different shades.
Can be easily cleaned with a wet cloth.
Cons
As it is an oil based formula it cannot be used near fireplaces.
Some people complained it is not a pure brilliant white colour.
3-Ronseal RSLSWUTSP750 Stays Ultra Tough Satin Paint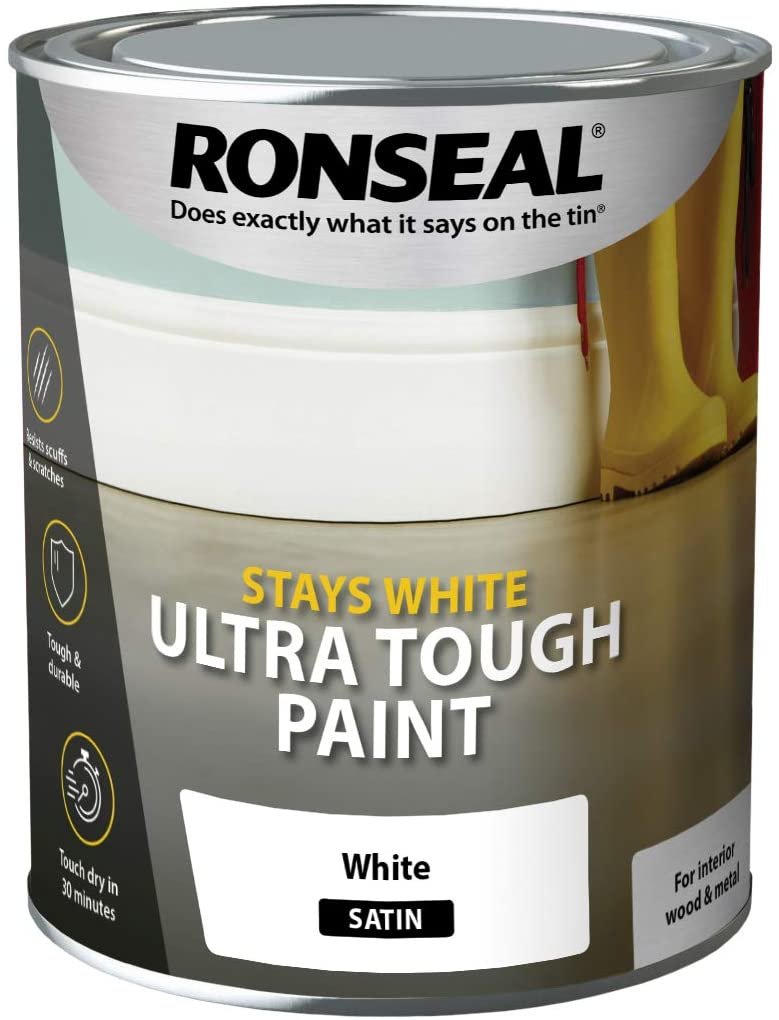 Ronseal ultra tough paint is specifically formulated for painting interior wood such as doors and windows.
It is made with a 2-in-1 formula topcoat and base coat or primer. It gives an excellent finishing on new and damaged surfaces. Without applying primer or topcoat.
You can choose between two finishes :gloss and matte. One is high sheen and the other is low sheen. Though it comes with a very limited color option it offers again satin finishing which goes well with the door and gives a perfect gloss with contemporary matt finishing.
It is formulated with low volatile organic compounds which mean your paint dries quickly and leaves no odor behind.
Considered best paint for high-traffic areas because of its durability and resistance formulation. It comes in 2 sizes, one is a 750 milliliter tin and one is a 2.5 liter container.
The Application process is very easy. You can apply it with spray, brush and even with a roller.  If you want to have white surface for a long time you can apply primer before painting then your paint is guaranteed to remain white for almost 10 years.
Pros
Manufactured with scuff, scratches and drip resistant formula
Due to low volatile organic chemicals can be used safely in the kids rooms.
Quick dry time and just need two coats on the damaged surface.
If a high quality primer is applied then paint can stay white for almost 10 year.
Cons
Compared to oil-based formulas it is less glossy. So it may start discoloration if primer is not applied.
It covers only 6.6 meter area per liter.
4-Rust-Oleum Matt White AMZ0059 Universal Paint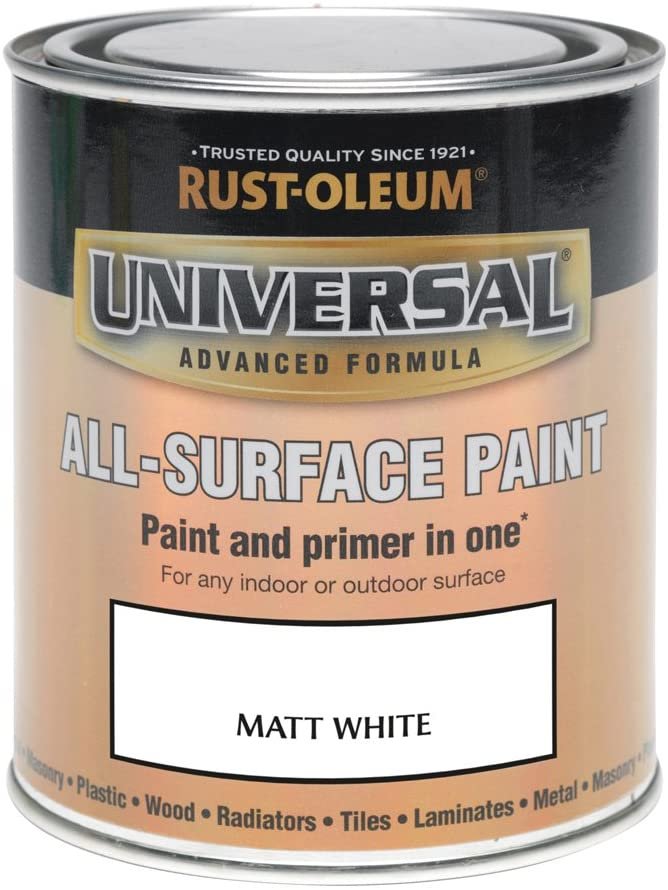 This is the best paint for interior doors and the most budget friendly option in all aspects. Without any base coat or primer you can directly paint it onto wood, plastic and metal surfaces.
If you are applying it on white interior door choose matt white because it dries up into a brilliant white colour. Flat finishing is not recommended because it enhances the brush strokes and imperfections.
It comes in 250mililiters and 750mililiters tin you can choose according to your area. Rust oleum paint can be easily applied with brush and roller and can be easily wiped with a wet cloth.
Its drying up time is just 2 hours. First of all, recoat is not needed with this paint but you can repaint it after 16 hours. It comes in 16 different colours and you can also choose from gloss and satin finishing.
If you are applying it on damaged surfaces you can add 10% white spirit with your paint and apply this on your first coat.
Pros
Can be applied directly on previous painted and new doors.
No need to apply primer unless surfaces are severely damaged or on galvanised and non ferrous metal surfaces.
Made with stain resistant chemicals and protects from anti rust agents.
Water-based formulation and can be applied with roller and brush.
Cracks and moulds resistance.
Cons
It is not formulated with a non-dripping feature.
Except for white color other colours do not have fine finishing.
High volatile organic compounds
5-Crown Pure Brilliant White Quick Dry 526214 Satin Paint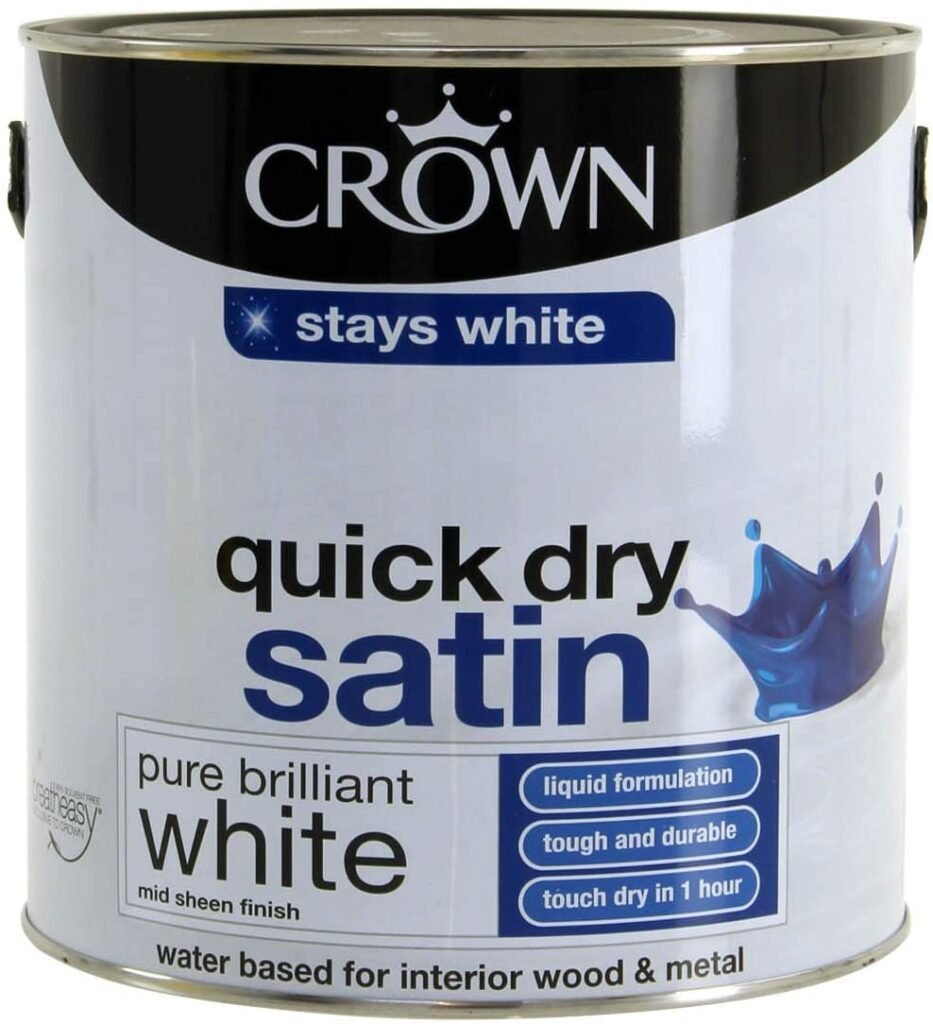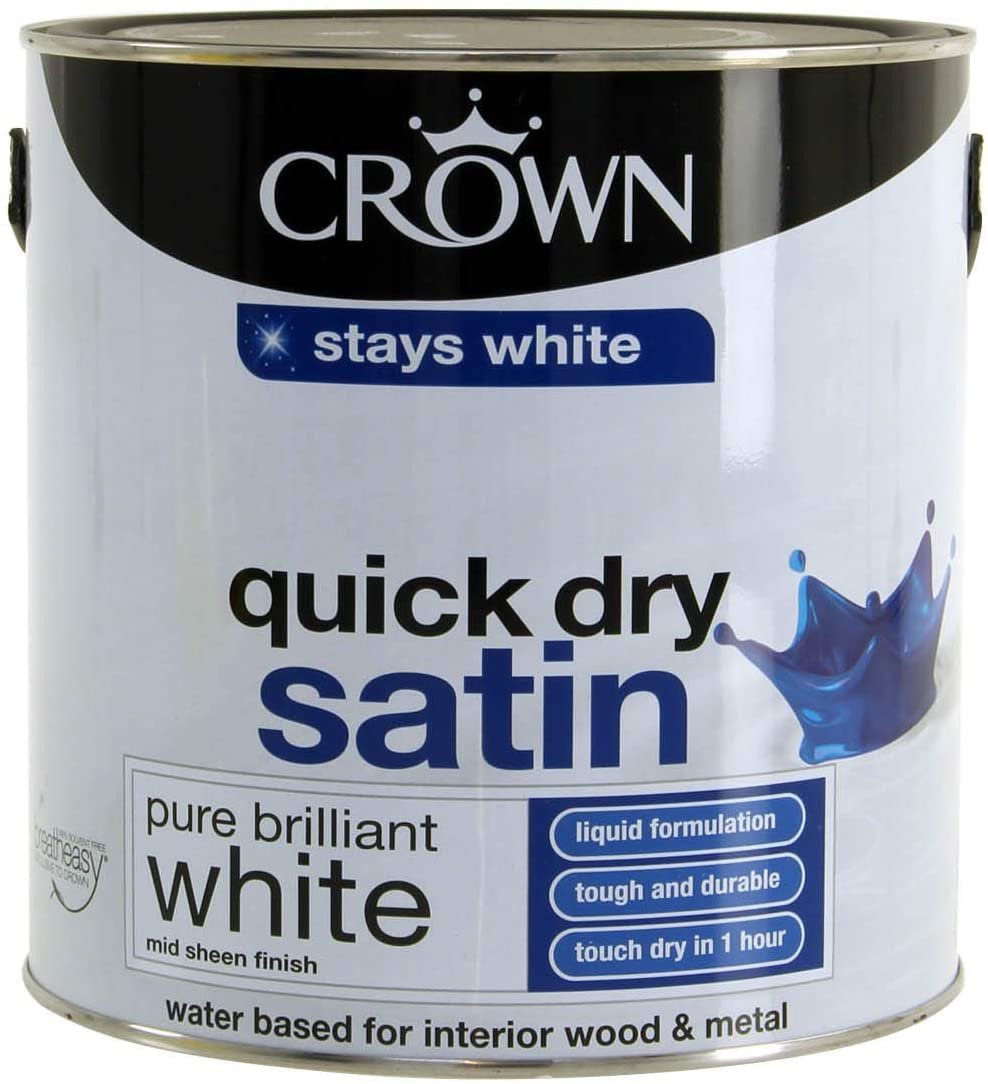 Crown Quick Dry Satin paint is water based solvent and goes very well with interior wood doors and as well as on metal surfaces. It is available in pure brilliant white color and offers soft satin finishing.
It is formulated with low volatile organic compounds and its breatheasy technology makes it ideal to use even in the low ventilated areas of kids ' rooms. Paint leaves no odor behind.
Due to low volatility organic compounds its drying time is real quick. It touches dry in just 1 hour and you can repaint it after 6 hours.
Formulated with non yellowish features and keep your paints white for a long time. You can even easily clean it with a wet cloth.
Though primer is not needed with this paint but on damaged or metal surfaces you may need a base coat.
It comes in a 2.5 liter container and covers a 16 meter area with one liter of paint. And paint can be spread easily with paint and roller. Its non-drip formulation makes it ideal to paint your door without any mess.
Pros
Reasonable and excellent finishing.
Very mild volatile organic chemicals. Can be used safely even in the room of kids.
Formulated with non yellowish chemicals.
Excellent viscosity levels make paint easy to spread with brush, roller and gun spray.
Cons
Sometimes it needs more than 2 coats and some surfaces may need diluting.
Does not give a fine finishing on previously dark surface
Its drying time is so quick that sometimes paint sticks to the brush. Leave marks on some surfaces
6-Johnstone's One Coat Brilliant White 303900 Gloss Paint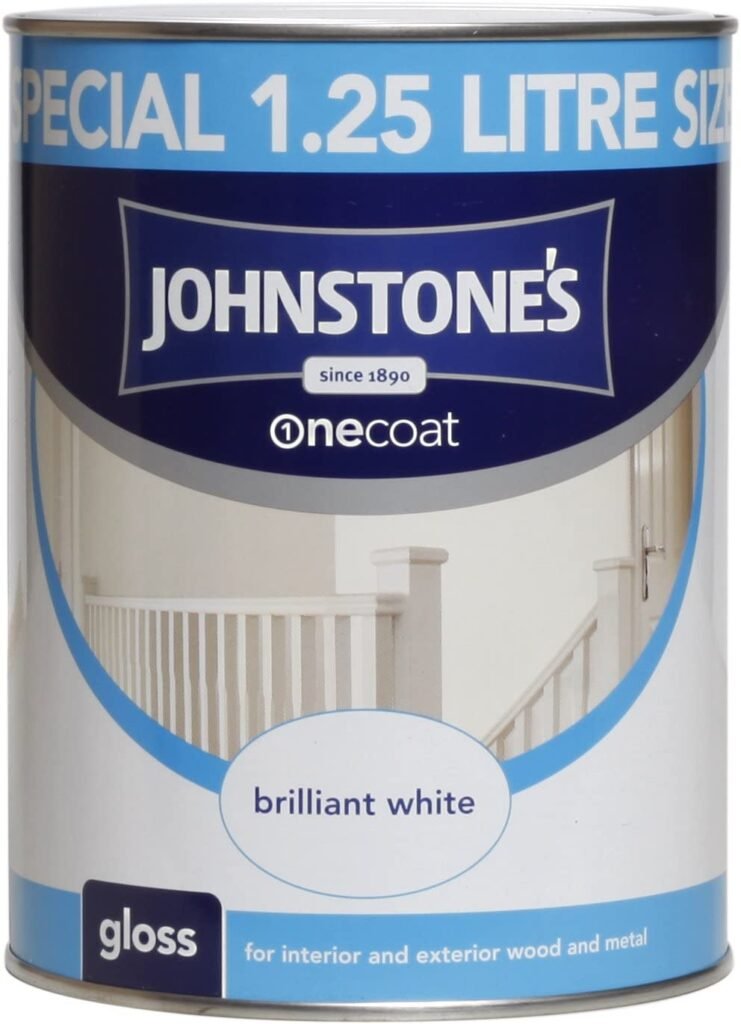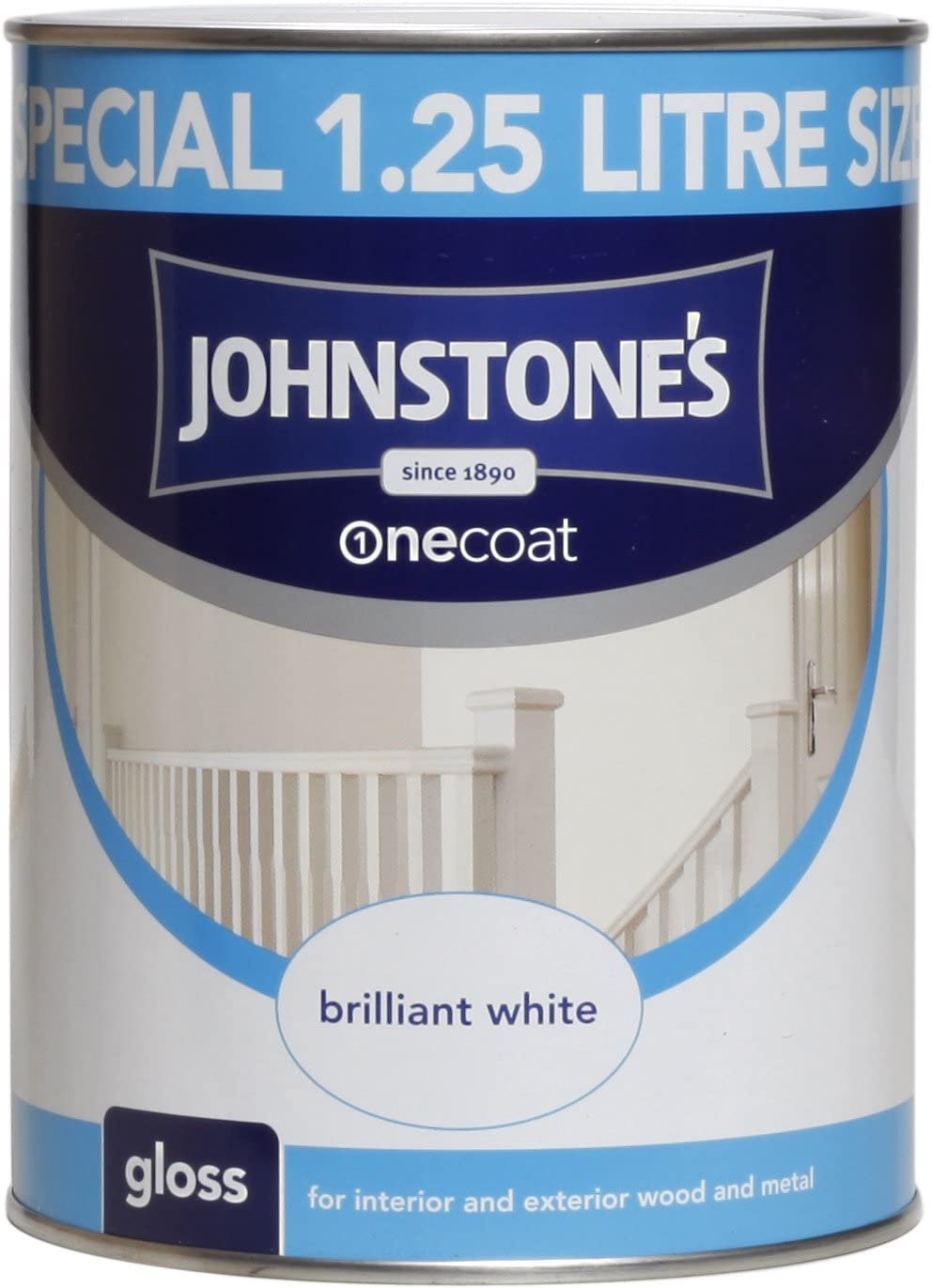 Johnstone's one coat paint is considered the best paint for interior doors due to its 2-in-1 paint and primer formulation.
High quality, reasonable and convenient paint for both interiors and exterior wood and metal doors and surfaces.
Formulated with base coat chemicals increase the durability and covering capacity of the surface.
Made with non yellowish chemicals and keep your paint white for a long time. But if you want to have a more durable result you can apply primer on a base coat.
It offers high sheen finishing. Can be easily applied with a paint brush.This paint comes only in brilliant white colour.
Comes in a 1.25 liter container and one tin can cover a 12 meter area. Thick in consistency and one coat is just enough for fine coverage. 
Pros
Its 2-in-1 paint and primer formulation. No base coat is required.
Thick formulation and one coat is enough.
Can be applied easily with roller and paintbrush.
Cons
It comes only in white color so on dark surfaces it may require more than one coat.
On some surfaces paint does not give good results without primer.
Cannot be applied with a spray gun.
7-Everbuild Professional Quick Drying EVBWSNO750 Satin Finish Paint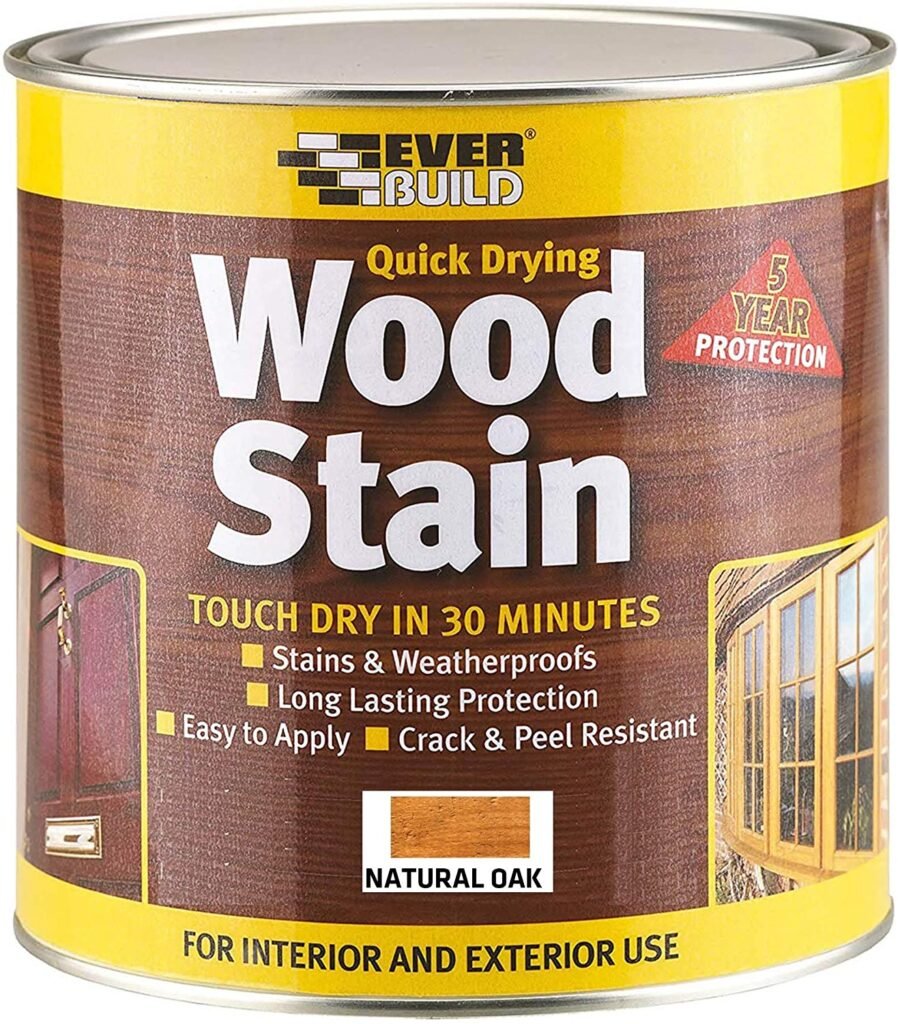 Interior and exterior doors need to be repainted after some time. Everbuild quick drying wood paint is the best option you can choose.
This paint is considered best for both interior and exterior wood doors. Though a single coat is enough, if you want more durability you can do a double coat.
Formulated with water and crack resistance chemicals. It offers protection for 5 years from ultraviolet light and keeps your paint in the exact same colour it is painted.
It comes in 8 different natural colours and is reasonably priced. Comes in 3 sizes of 250 millilitres, 750 millilitres and 2.5 liter containers and covers almost 20 meter area in a liter.
It is a water based solvent and it dries up in just 30 minutes and can be repainted after 4 hours. Due to low volatile organic chemicals it leaves less odor in the room.
But the only drawback you can face is that this paint is not formatted with a non-dripping feature and it creates mess while painting doors.
Pros
Comes in 8 different neutral colours.
Formulated with low volatile organic compounds.
Excellent results in just a single coat.
Ultraviolet light degradation and long lasting formulation.
Cons
Runny consistency and create mess while painting.
Some users complained about dry patches.
BUYERS GUIDE FOR BEST PAINTS FOR INTERIOR DOORS
Choosing a paint for interior doors is not an easy decision . There are many types and varieties of interior door paints available in the market. Some are formulated according to the surface, some according to quality and finishing. For easing your decision we are going to make a list of some important factors which you must consider before choosing the best paint for interior doors.
INTERIOR DOORS PAINT TYPES
This is the first and most important factor to look for, because if the type is not chosen correctly you will not have satisfactory results. There are three types of paint available in the market for painting interior doors and all are best according to their formulation and application.
These types of paints are recommended if you want to have smooth and high gloss finishing. These paints have strong resisting capacity and are considered best for painting bathroom and kitchen doors. But oil-based paints have a high level of volatile organic compounds and leave odour in place for a certain time.
These paints have less drying time and formulated with low levels of volatile organic chemicals and have very mild odour. Water-based paint can be applied easily and mostly you just have to do a single coat.
These types of paints are the combination of oil-based and water-based formulas. These paints are not sticky and painting tools can be cleaned easily. As like water-based formulas these paints leave less odor behind.
WOOD STAIN
Wood stains help to protect your interior door wood from moisture, dust and molds.
COLORED, GEL & TINTED STAINS
Colored and tinted stains are basically used for adding decorative effects on interior doors. These stains protect the paint color from fading. Whereas gel stains are considered best for anti-UV process and preferred more for exterior doors.
VOLATILE ORGANIC CHEMICALS
These chemicals are found in almost every paint. They can cause nausea, headache, breathing problems and sometimes many severe diseases like cancer. But there are many paints out there, which are formulated with low volatile organic compounds so you can safely use it in your kids room. If your paint has a high rate of volatile chemicals, always use it in high ventilated rooms
PAINT FINISHING
Like all other paints, door paints also come in many types of finishes.
Easy to apply and make your room doors look bright. Can be cleaned easily and drying time of this finishing is real quick. You can use it in kids rooms also.
Semi-gloss & high-gloss finishings
Semi gloss and high gloss finishings are durable compared to other finishes. These finishes have smooth results, but they do not hide imperfections very well. Both are weather resistant. Can be used easily on interior and exterior doors.
Considered the best finishing for covering imperfection. Preferred for low traffic area doors because dirt and stain appears on it.
VARNISH
Making your old door look like new varnish is the most recommended and easy process. You can choose the type of varnish according to your door surface. Varnish protects the outlook of your door.
There are 2 types of varnish:clear matte varnish and wax satin varnish. If your main goal is just to protect your door surface then you can choose matte varnish. But if you want to give your door a warm tone you should go for wax satin varnish. It gives a natural and light look to your door and protects it. 
COLOR SELECTION
Best way to choose the colors is the place where you are applying paint. If you are buying paint for kids rooms doors you can choose different colors for making your door catchy to eyes. But always go with decent colours if you are buying paint for hallways and dining rooms doors. It is not a compulsion that you have to match your door color with the interior of your room.
PRICE & BRAND
In most cases it is true that brands offer higher quality results but this is not compulsory because most of the time brands pay more attention to the quality of product which they offer at a high price.
TIPS AND TRICKS FOR PAINTING INTERIOR DOORS
If you want to repaint the door you should apply a minimum of 2 coats for having smooth and uniform finishing. And if you are applying paint on gloss finish first you have to use the primer for making your surface dull.
Always use wide flat brushes for painting doors because rollers usually go best on ceilings and walls.
Leave your door open while painting them. It will help you to paint both sides of the door at a time.
You can paint the bottom of the door by using a mini paint pad.
Prefer using glass or semi-gloss paints as they are easy to clean.
If you are painting new doors, first of all, seal all cracks to prevent future damages.
If you are painting your panel door you may need a more accurate brush for widths. Paint every panel separately and leave rails, muntins, stiles to paint them at the end. Because if you paint the frame first, the paint may dry before painting it entirely.
Try to use paint conditioners as they help to keep the paint for some time so that you can easily complete a painting on different surfaces. As they are humidity resistant and also support the paint bond on the door surface.
STEP BY STEP PAINTING PROCEDURE
Tape the wall: While painting the door make sure your wall edges are covered with painter's tape so your wall will not get dirty with paint.
Surface sanding: sand your door surface with sandpaper so if there are any cracks it will be covered up with sand.
Base coat: apply base coat on rough and damaged door so that your top coat or paint will give excellent finishing. Apply a single coat on your wood door and let it dry completely.
Topcoat: Now apply your paint by using a brush or roller. If you are using high quality paint then one coat is enough. Do not apply a second coat unless one coat is dried completely.
Always choose a long-lasting and durable paint whether you are choosing gloss or semi-gloss finishing. Because if you choose any low-quality paint you may not get a perfectly smooth surface or you may need to paint your door after a short time. You can choose between water-based, alkyd and oil-based paint according to door surface and area where your door is.
Our above-mentioned products list is the best paint for interior doors on which you can rely. You just need to follow right tips and tricks. We hope our guide will help you to find the best  internal door paint . We wish you a happy painting experience.
Most frequent questions and answers