If you build a new house or want to decorate your house or any portion of house with masonry and searching for best masonry paint, then you land at the right place.
Paint enhances the beauty of any surface with stunning colors. But, use of bad quality paint will make the surface looks dirty. So, the most important decision is to select the best paint for masonry surface.
In the market, large number of masonry paint available of different brands and other local companies. So, it is difficult to choose and buy the top quality paint which gives the excellent result. If you choose the wrong product, it will waste your all effort and money.
We make this decision easy for you, after a great research we have listed top masonry paints. Just read the product reviews below and select the product for your surface, weather its render, bricks, concrete, the whole house or just a garden wall.
Some of the best wall paints can also be used on masonry. But, you have to pick the paint specially formulated for the masonry.
So, here is the list of masonry paints.
Granocryl Leyland is base on mould resistant formula suitable for almost all type of surfaces like bricks, concrete, rendering, roughcast and all other similar masonry surfaces. It is exterior wall paint provides durable and smooth finish.
It seems thicker, if you find it little hard to apply, then you can easily make it this by adding some water because it's a water based paint. Granocryl layland promised that it protects from weather for ten years.
Its coverage varies with the absorbancy condition of surface. On a new and unpainted surface granocryl covers 8 square meter with one liter paint. One coat covers very well, but for brighter and more durable finish, you can apply two coats.
You can use its first coat as a primer by adding 10% of water. But, we recommend you to use a separate undercoat and then apply it over. Paint is applicable with brush and roller also. But, its good to use brush instead of roller. Because most of the masonry surfaces are uneven.
Leyland granocryl smooth masonry paint comes with the different stunning colors and also in textured finish with quick drying time. One good thing in this paint is that it also give better result on other surfaces like wood and metal. So, you can apply leftover paint on small things in house.
Pros
Durable and mould resistant
Smooth finish
Suitable for all type of masonry surfaces
Different color choice available
Also available in textured finish
Thick and easy to apply
Cons
Requires separate primer for better result
2-Rustin quick dry masonry paint
Rustin quick dry is a high performance paint give excellent result on masonry surfaces such as bricks, cement, stone and tile. It ends up with smooth matt finish, ideal for both indoor and outdoor masonry surfaces.
This paint is ideal for small touchups in the house. That's why it comes in small sizes of 250 ml and 500ml. So, be sure about size of paint and area you want to cover, while ordering the paint.
As tin says, it's a quick dry paint which dry super fast in just 30 minutes. For most of the surfaces, its first coat will be enough. But, if the surface is damaged or in worse condition, then it may need second coat.  4 hours is recoating time of Rustin quick dry paint.
It is a low odor paint doesn't need any primer on fresh mortar or bare wall. Avoid to use this paint on damp surface, so make the area well dried and cleaned before the application of this paint.
With this paint you have a choice to select the color for you surface from 4 different colors. Can be applied with all three methods, brush, roller and spray. Recommend to apply with brush and don't over load it, otherwise it will drips down.
Paint can also be use on many other surfaces, even on glass. If you applying it on smooth surface like glass, sand it lightly, so paint can stick on it.
Pros
Very less drying time
No need of a primer
For indoor and outdoor use on masonry, also suitable for many different surfaces
Cover large area of 14 squared meter
Low odor paint
Cons
Paint is little expensive as compared to others
Small sizes available only
3-Sandtex retail ultra smooth masonry paint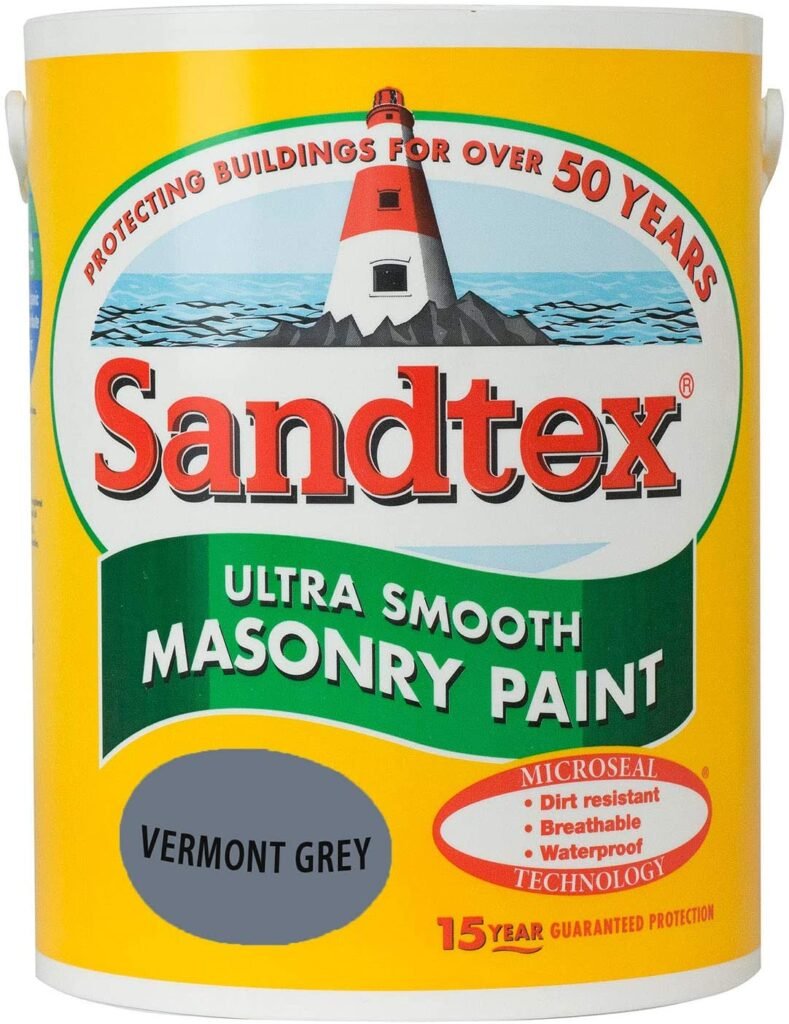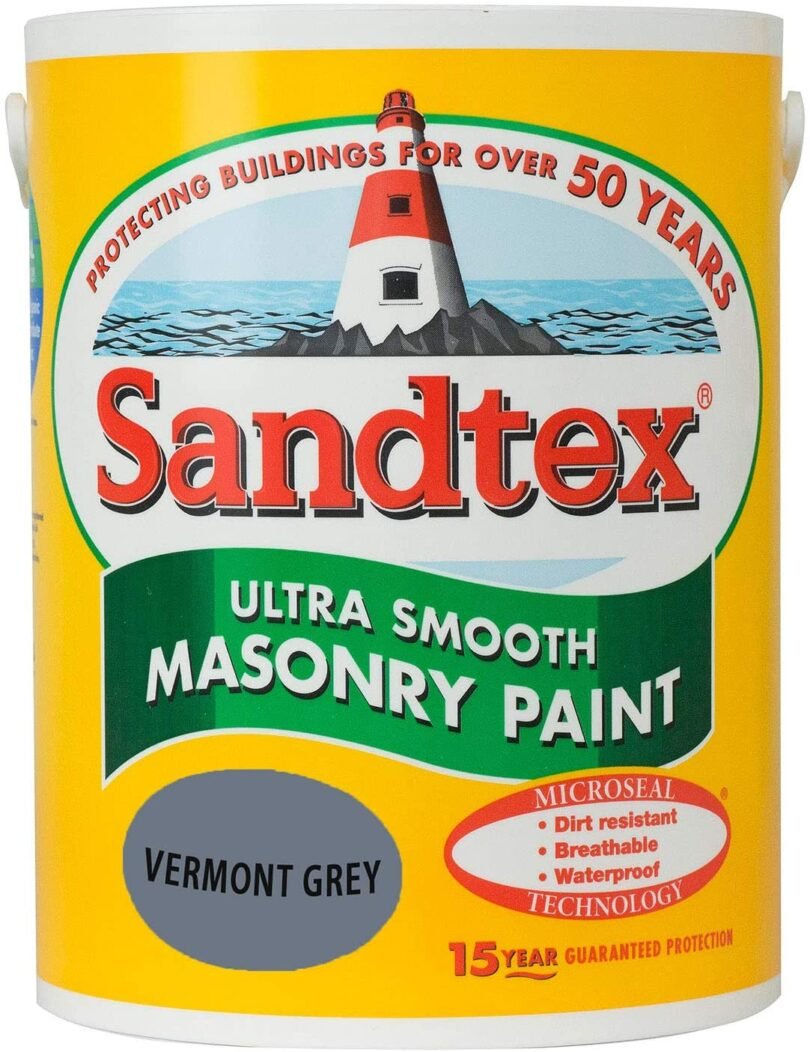 Sandtex ultra smooth masonry paint is very high quality extra smooth masonry paint with micro seal technology which means it's a weather proof and dirt resistant. It gives 15 years guaranteed protection on exterior masonry surface.
It is especially formulated for east application and maximum coverage which is 12 to 16 meters squared in one liter. Sandtex ultra smooth takes 4 hours between the coats to dry.
Its available in different sizes and colors. While ordering this paint, always remember one thing in mind, there surely will be a slight difference in color then it shows on outside of tin. So, be aware about the color before ordering the paint and stir it thoroughly before use.
It is a little thick and less odor paint. If the surface to be painted is well prepared and cleaned and you apply paint carefully, then you can get your job done with one coat. Otherwise you need to apply the second coat.
It's also water based paint. Apply with paint brush and it will give smooth matt finish. Avoid applying this paint in cold temperature.
Pros
Offer 15 years guaranteed protection
Dirt resistant paint
Breathable and water proof
Ideal for exterior all type of masonry surfaces
Great coverage of 12 to 16 meter squared
Cons
Color don't match with the color on outer side of tin
Not quick dry paint
4-Dulux weathershiled exterior wall smooth masonry paint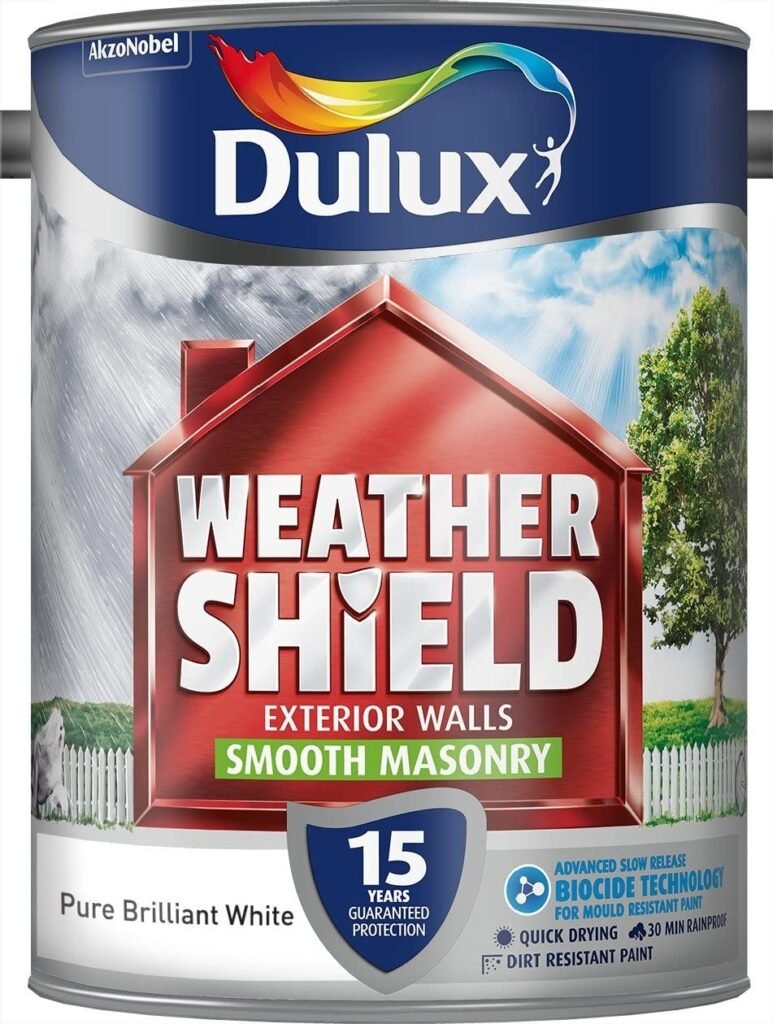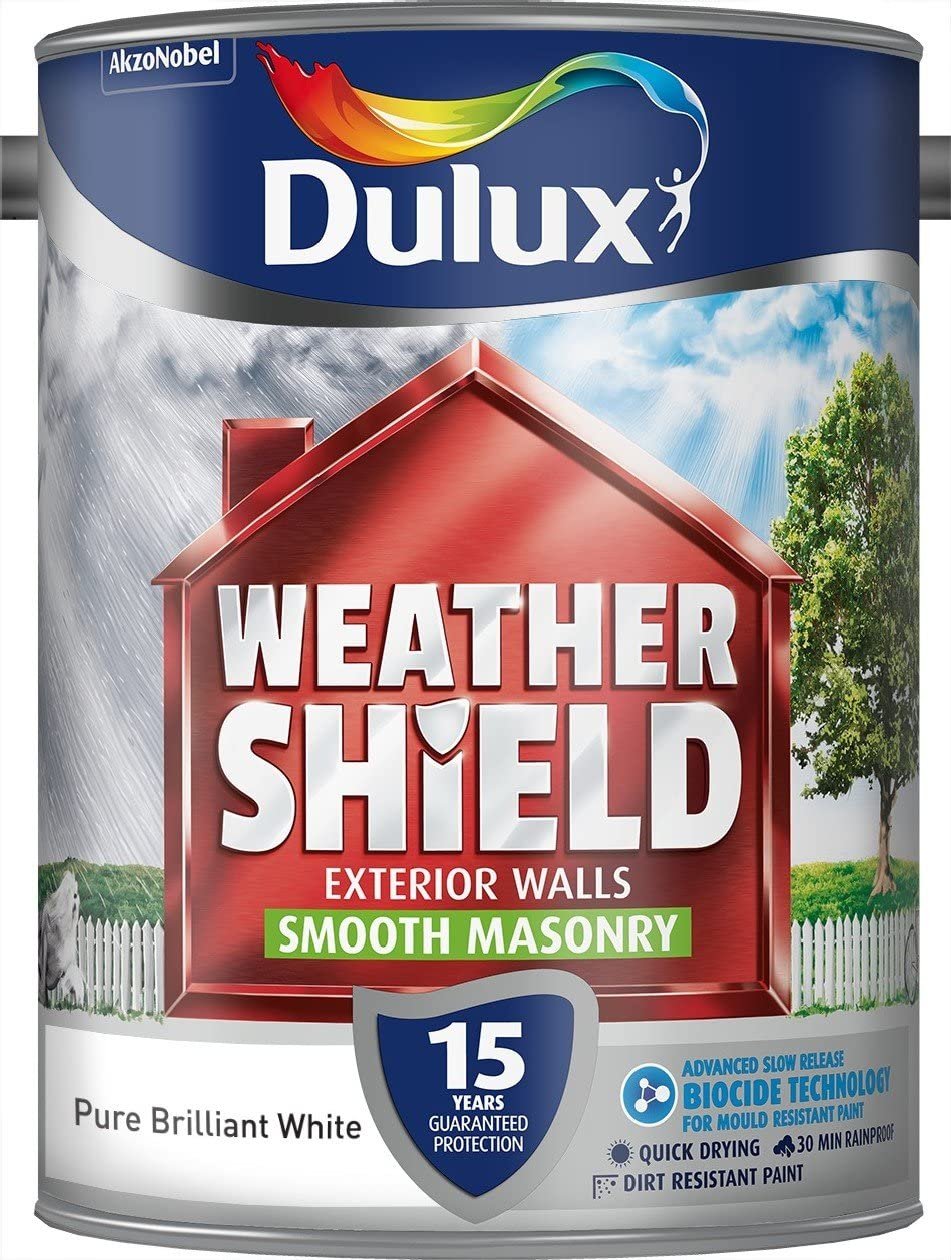 As we all know, dulux is the well known brand because of its all time quality products. Dulux weather shield smooth masonry is for exterior walls with 15 years guaranteed protection and makes the surface dirt and mould resistant.
It's a water based formulated on quick drying formula, which makes this paint weather resistant and rainproof just in 30 minutes of application. For second coat, wait for 4 hours and let the first to dry.
If the area you need to cover is well cleaned and in good condition then instead of buying separate primer, dilute the first coat by adding 10% percent of water. It can fill all the holes and works like a primer. Paint ends up with flexible film and makes it protective from cracking and peeling.
Dulux weather shield is a great quality product. It doesn't matter you are using it to repaint an existing wall or on a new wall, it will give the excellent result on both, new and already painted wall.
All masonry surfaces can be covered with this paint. But, we don't recommend you to use this paint on bricks, because it not gives excellent finish of that type, like on other masonry surfaces.
Pros
Get dry and rainproof in 30 minutes
Mould and dirt resistant
Water based and uv resistant
Color choice available
Give long lasting protection for 15 years
East to apply and clean
Cons
May not give you satisfactory result on bricks
5-Polar premium smooth finish masonry paint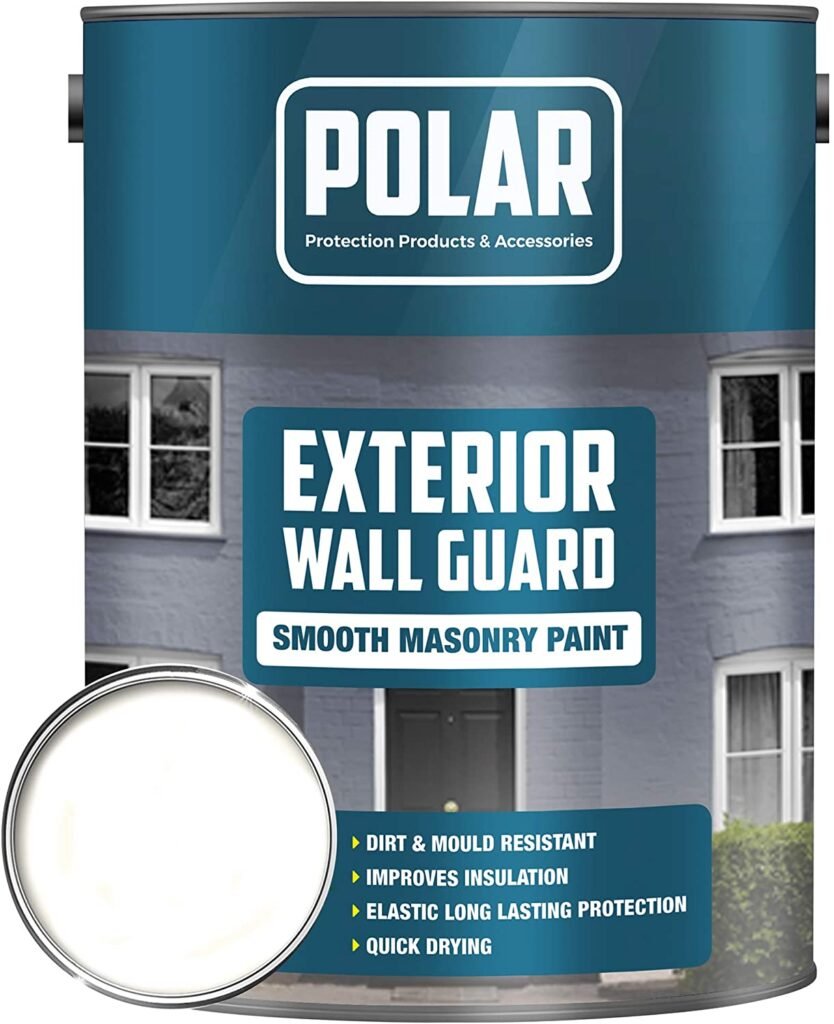 Polar premium smooth paint is another best water based paint especially formulated for masonry surfaces. It's a water proof, dirt and mould resistant paint provide elastic long lasting protection to the masonry surface.
Ideal for decoration of every type of masonry surface like bricks, concrete, block work, stone and pebbledashes. It's a quick drying paint read ready for touch in 2 to 4 hours. Normally it requires two coats, dependent on the condition. So, its recoat able time is 4-6 hours.
Paints texture is easy to use and goes smoothly. If you apply it in a right way, it will completely transform the dull surface into fresh looked surface. Paint has incredible coverage, covers 16 square meter area on smooth and planed surface.
High quality paint has no odor. Brush, roller and sprayer, all three methods can be use to apply the paint. We recommend applying with brush or sprayer. To use with sprayer, you and add few water to make it little thin.
If you have damp or wet surface, then don't use this paint until the surface dried. Stir it well, instead of using any primer; you can use it on new and already painted surface. Just clean the surfaced and remove loose and flaked paint for already painted surface.
Pros
Superb coverage of 16 meter squared
Applicable with brush, roller and spray
Quick dry, able to touch in 1 to 2 hours
Provide decoration and long term protection
Hard wearing and water proof
Cons
Need more than two coats for some surfaces, depends on its condition.
6-HQC smooth masonry paint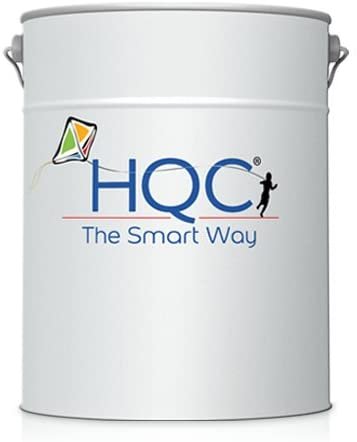 HQC is such a great quality product to use on concrete on concrete, plaster, bricks and stone walls. If you have very large area to paint, then HQC is a perfect choice. It's available in large size and large number of glorious color choice available.
It Is a eco friendly paint that is based on leading weather proof technology, which makes the surface more durable and protect it from weather condition, cracking and peeling for many years.
It gets touch fry on 2 hours and complete dry in 4 hours for recoating. Two coats need for full protection and long lasting finish. Its coverage is 6 meter squared which is little less than other masonry paint. So, be sure about the size of paint while ordering.
Its application methods are brush, roller and sprayer. It has nice consistency and easy to go with, doesn't drips from brush. Comes with slight difference in some of colors from the color on tin. So, keep it in mind and choose the best color as per your desire.
Another good thing in this paint that it is budget friendly as compared to other masonry paints. It's a washable paint with high scrub resistance and easy to clean with soft wet cloth.
Pros
Based on leading weather based technology
Washable paint, easy to clean
High scrub resistant
Comes in 32 stunning colors
Need less maintains
Cons
Low coverage, that's why its inexpensive
Some colors come with little difference from color on tin