If you have wooden fence, shed or any other type of woodwork outside the building. Then you need to protect it from weather conditions by using any best exterior wood paint. Bad weather can damage the woodwork and decrease its life.
If you want your exterior woodwork to look good and give it that protect from the elements, its vitally important to use a quality product. Whether it is your fence, shed , windows or your door, its very important that you use the correct tools, correct application technique and use the correct product.
By painting the woodwork, you can give your woodwork a fresh new look. Painting will increase the life of woodwork and make it more weather resistant.
But, now a days, it is a very challenging task to select the best external wood paint, because there is a large number of products available in market.
Below, we have listed top paints available in market for outdoor woodwork. We also write the buying guide which will help you to choose and buy the most suitable paint for your surface.
If you want to give your woodwork gloss finish, then you can select the external wood paint from our article best gloss paint.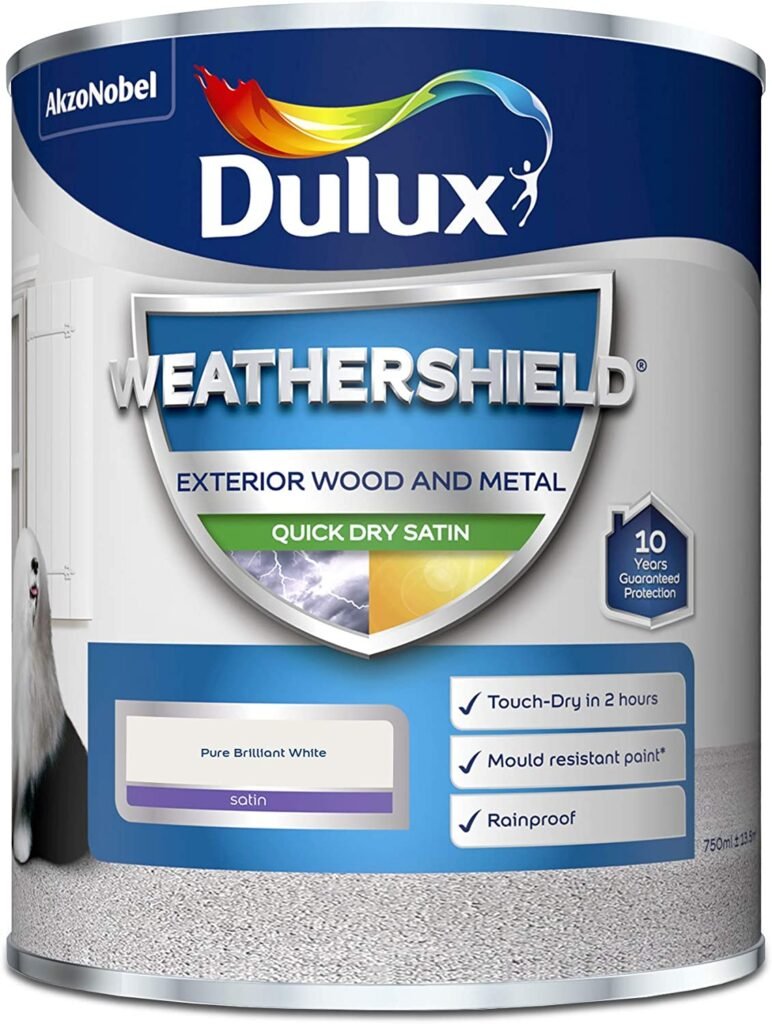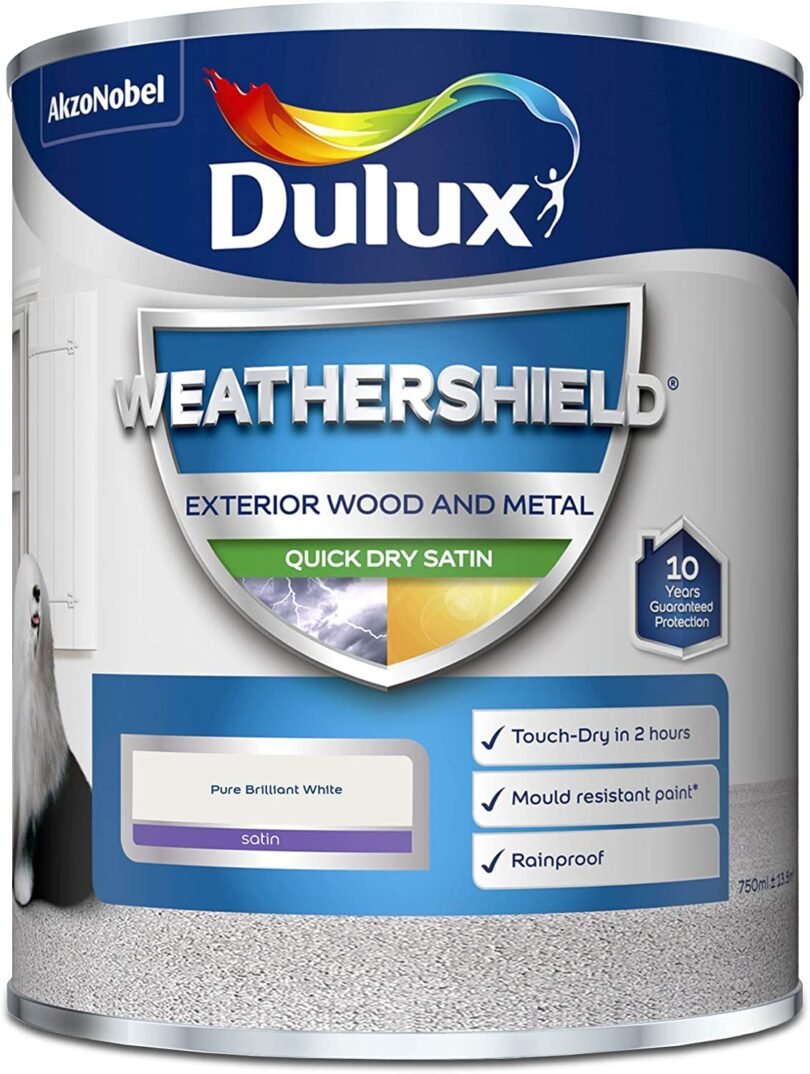 It is a water based paint that provides protection from weather condition with 10 years guarantee. If the surface is well cleaned and dust free, then it will surely give long lasting protection from weather condition upto 10 years.
Dulux weathershield quick dry satin will give you attractive mid sheen finish. It is also available in gloss finish. So, you have a option to choose this paint in two finishes.
This paint is for exterior use, suitable for wood and metal surfaces. Don't use this paint on bare surface. You need a separate undercoat for bare surface.
It requires two coats for excellent finish and covers most of the imperfections from the surface. Give  1st coat minimum 6 hours to dry for recoating.
Brush is recommended to apply the paint. Because of its thickness, it is very easy to apply paint, will not drip out from bush. As it Is water based paint, soit is very easy to clean the brushes under the tap after painting.
If surface is previously painted and you want to just refresh it, then its one coat will be enough. It will be dry quickly and ready to touch in just couple of hours.
Pros
Superb coverage of 16 to 18 square meter in one liter
Its thickness make it easy to apply
Brushes cleaned easily
You have a option to choose from multiple colors
Also available in gloss finish
Product is available in two sizes, 750 ml and 2.5L
Cons
If the surface is new, then you need a separate undercoat
Very thick paint
2-Jhonstons wood care garden colours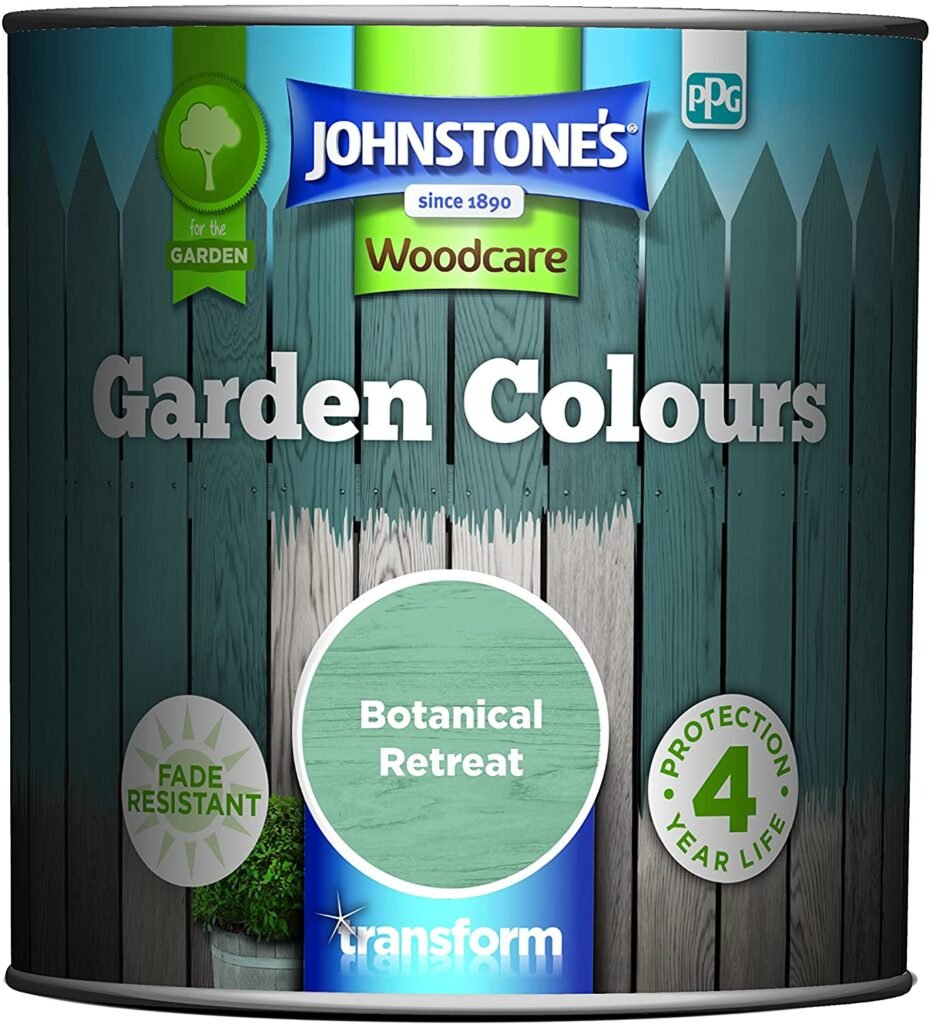 Jhonstonswoodcare garden color is an excellent choice for exterior wood like garden fence, shed, table or chair etc. It Is a fade resistant paint that give long lasting beautiful look and protection upto4 years.
If you don't want to hide the surface completely and also want to see natural wood grains, then this paint is a perfect choice. Along the rich colored smooth finish, you can also notice the natural grains of wood by using this paint.
One coat is enough for most of the cases. If the surface is badly damaged or In poor condition, then it needs couple couple of coats. For second coat, leave first coat to dry for 2 to 4 hours, depends on weather condition.
You can also use it directly, whatever surface you have bare or already painted. You can add 10% of water in first coat, it will work as a undercoat.
It is easy to apply and less odor paint. Only recommended to apply with paint brush. Brushes can be easily cleaned with warm water or soap after application, because of its water based nature.
Another good thing in this product is that it is available in 20 different stunning Colors. So, you can choose color for you furniture whatever you like.
Pros
You can also notice the natural grains of wood
No need of undercoat
Less drying time
Easy to apply paint with brush
Fade resistant paint
Cons
Normal coverage of 12 square meter.
3-Cuprinol garden shade exterior woodcare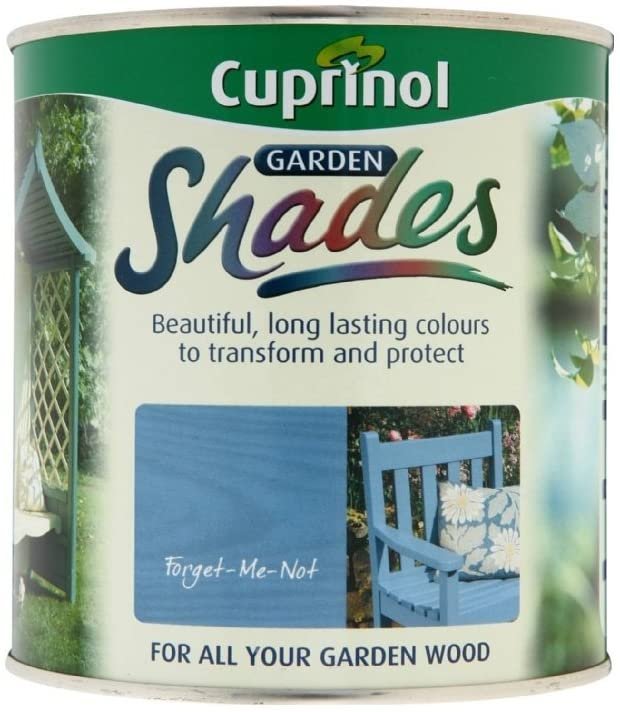 To get stunning matt finish on your exteriors, here is another best exterior wood paint named cuprinol garden shades exterior wood care. Cuprinol is famous brand because of its quality garden products.
Along with the beautiful matt finish, It also enhance the natural grains of wood. Instead of wood, this paint is also suitable for brickwork, stones and teracotta.
Best method to apply this paint is with paint brush and spray. For small areas, you can use brush and if you have large area to cover, then you can apply the paint with sprayer.
On a smooth plained wood, this paint cover 10-12 square meter are with brush and 4-6 square meter area with spray. If the surface you need to paint is rough sawn wood, then it will cover 3-5 square meter area with brush and 2-3 square meter are with spray.
It is a quite thin and easy to apply paint that takes one hour to dry. Its two coat will be enough for most of the surfaces but if the surface to be painted is badly damaged, then may it needs more. Apply all coats within 8 hours and leave it to dry.
Cuprinol garden shades is the water based paint, promised to protect the surface from weather conditions and sunlight for upto 6 years.
Pros
Quick drying time of less then hour
Good coverage, varies with the condition of surface
Applicable with both methods, brush and spray
Quite thin and easy to apply paint, can be used on bare surface directly.
Water based paint, harmless for pets
Cons
Slight difference in color then it shows on tin
Little drippy because of its thin consistency.
4-Ronseal weatherproof exterior wood paint
If you want to give fresh new look to your exterior doors, windows or frame in a gloss finish, then ronseal weatherproof wood paint is perfect choice. It offers a protection of 10 years to get paint safe from cracking, peeling and from weather condition.
Doesn't matter you have a bare surface or previously painted surface. You can apply on any surface directly. No need of a separate undercoat or primer.
It take one hour to dry. So, it makes the surface weather resistant in just an hour. For better result and full protection, apply two coats of paint. If the surface is previously painted and you just want go refresh it, then your job can be done in a single coat.
It is also a water based paint, available in many colors. So, you can chose color according to your satisfaction. But some times, paint color you get, not exactly matched with the images. Its 750ml tin covers 8-9 square meter area.
Clean the surface properly and apply the paint with paint brush. Because it is a waterbased, so brushes can be easily cleaned after use with the help of soap and water.
Pros
Its quick drying property make it weather resistant in just one hour.
Provide excellent gloss finish
Protect the surface upto 10 years
Applied directly on any type of surface
Available in many colors
Cons
Actual color doesn't exactly match with the color on images
5-Everbuild quick dry wood satin paint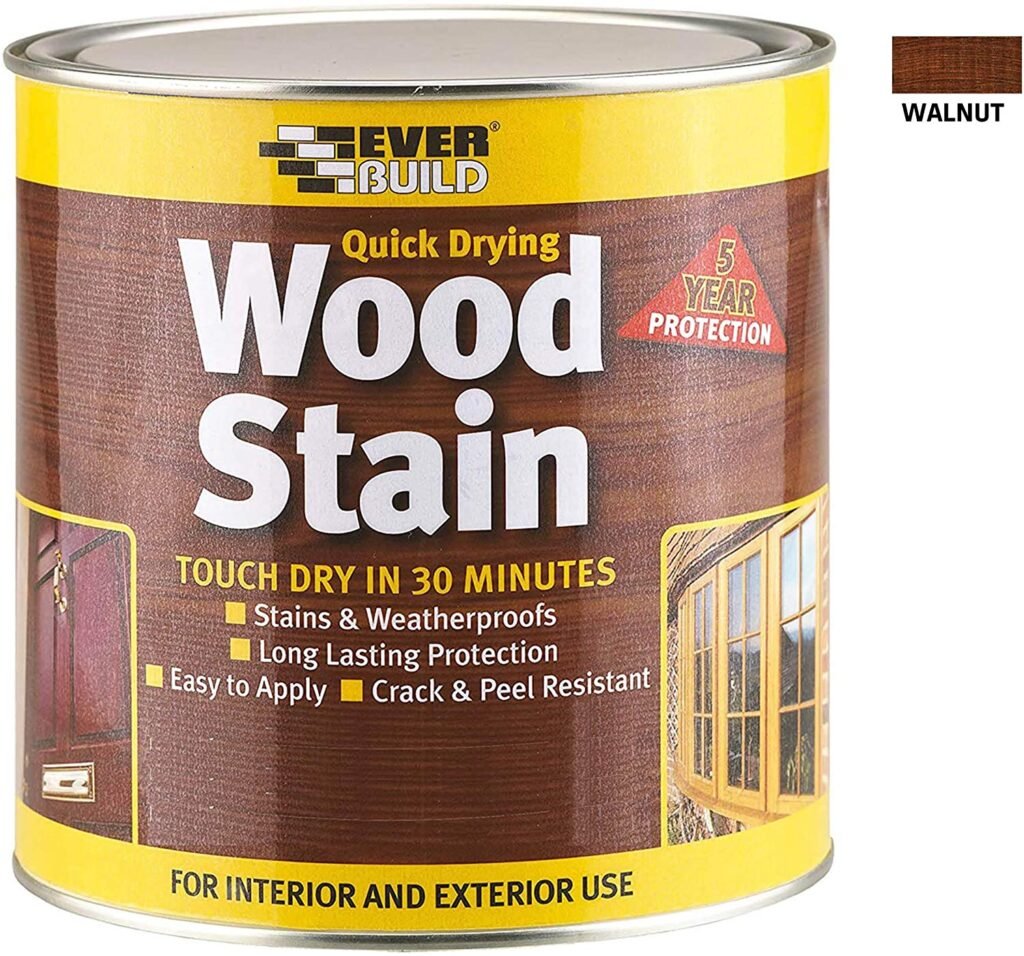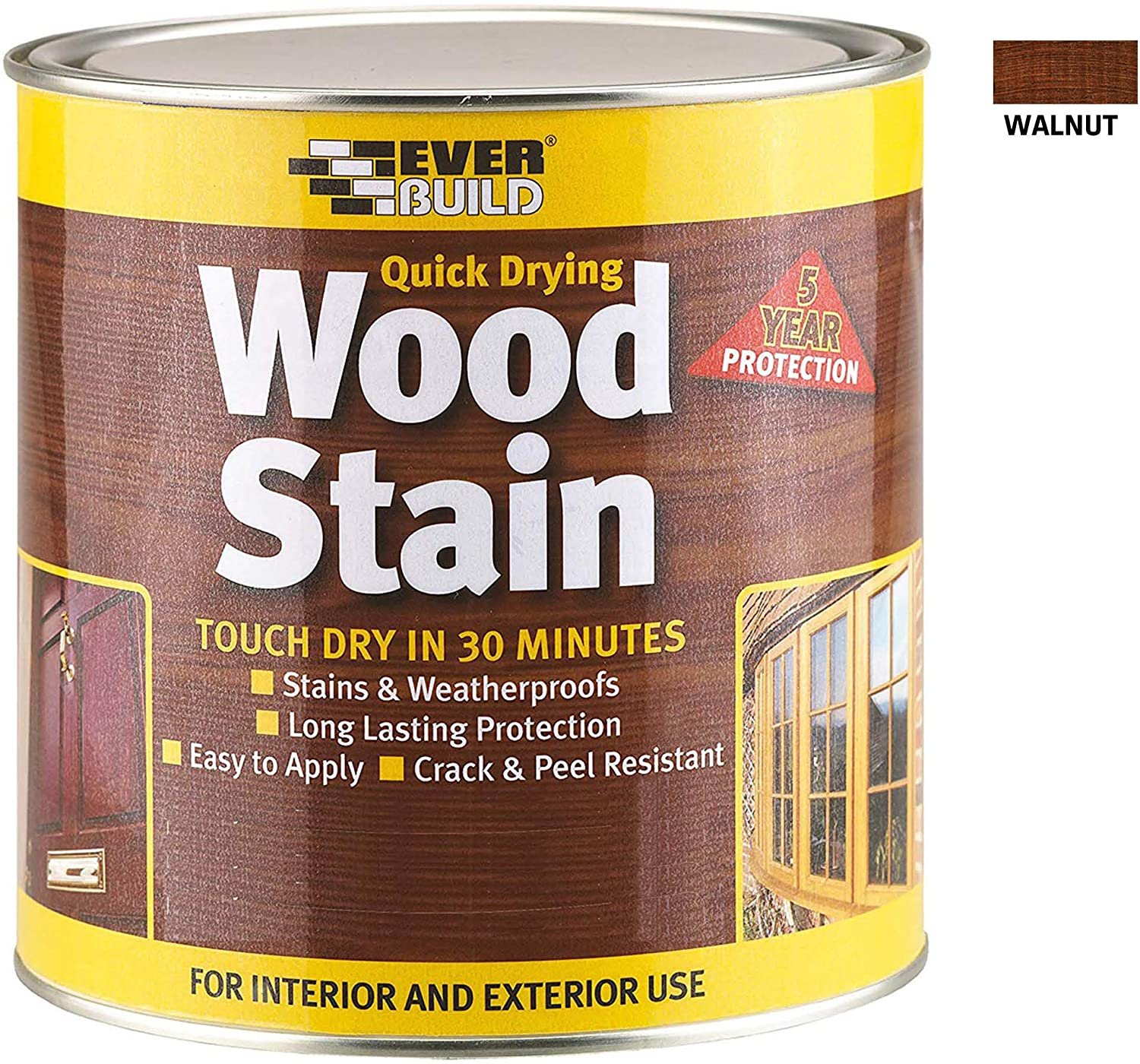 Everbuild quick dry wood satin is quality paint for exterior and interior wood and furniture. It is solvent free paint helps to provide protection to the surface from UV lights, cracking and peelings upto 5 years.
Manufactured on quick dry formulation and takes only 30 minutes to make the paint dry for touch. It needs two coats for better result. After 4 hours you can apply the second coat over.
This easy to apply paint comes with 8 different colors. Everbuild quick dry wood satin has a excellent coverage of 20 square meter per liter. It can varies with the condition of surface.
Use paint brush for better result to apply this paint. Use the synthetic bristle type brush to apply paint and then wash is with water after use.
Its quick drying ability makes it harmless and safe for children's and pets after dried. It is also a less odor product. This paint is a little runny because of its thin consistency. So, apply the paint carefully to prevent it to drip out from brush
Pros
Very good coverage of 20m2/L
Comes with 8 different colors
Very quick drying time of less then an hour
Available in different sizes
Easy to apply, recommend to apply with brush
Provide hard wearing protection
Cons
Running consistency , drips from brush
6-Ronseal quick drying wood satin paint for exterior wood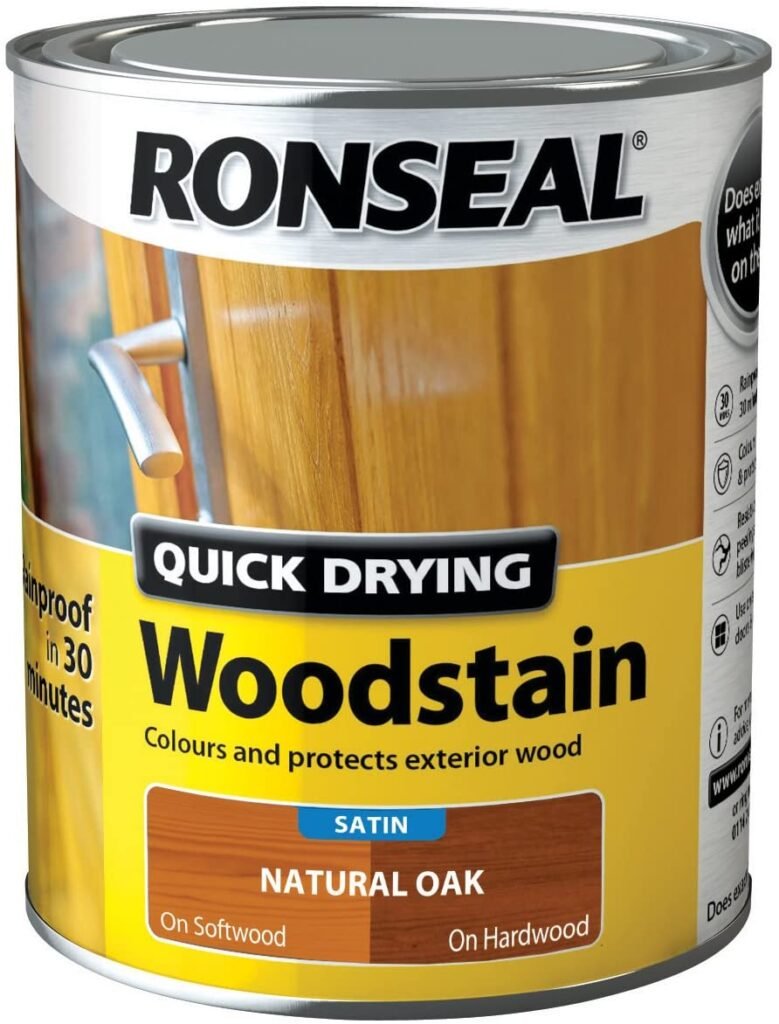 Ronseal quick drying wood satin is an amazing product by ronseal that makes the surface rain proof and highly water repellent in just 30 minuets. Its mean in just 30 minutes this paint get to dry and gives an attractive semi transparent satin finish.
Its best use is on exterior doors and windows, where it gives the coverage of upto 20 square meter in one liter. Ronseal quick dry wood satin leaves a protective layer on the surface which resist cracking and peeling.
On most of the surfaces, it needs more then two coats. So, let the first coat to dry for minimum four hours to apply the next coat. It's a water based, so you can add 10 to 15 % water in first coat, that will work as a primer.
Stir it well before application and use paint brush to apply. Before final coat, sand the surface lightly, which helps to stick the paint strongly. Clean the brush with warm water before wood satin dry and get stuck to brush.
It dries quickly, but for recoating, it needs 4 hours to dry. So, if the surface you want to paint require 3 to 4 coats, then you will have to give 4 hours to each coat to dry and it will take lot of time to get your job done.
Pros
Make the surface rainproof in just 30 minuets
Provide semi transparent mid sheen finish and comes in resealable tin
Area coverage of this paint is 20 square meter, which is admirable
Available in both, satin and gloss finish
Various sizes available
Cons
More then two coats required for most of the surfaces
Quite runny paint
Final verdict for best external wood paint
The paint we mention above, all are qualitative and high selling paints with the large number of positive customer reviews. You can pick any one of them to give your exteriors fresh new look.
If you want to go with our recommendation, we recommend you to with Jhonstons woodcare garden color for your garden furniture like shed, fence, table or chair. It is highly water repplent and fade resistant pant that provide protection for 4 years. It is specially formulated for the garden furniture.
If you have exterior wood doors or windows to paint, then you can go with Ronseal weatherproof exterior wood paint. It is ready to use paint directly or bare or already painted surface.